St. Louis Comic Con Sunday Schedule, Morena Baccarin and Billy Dee Williams Among Guests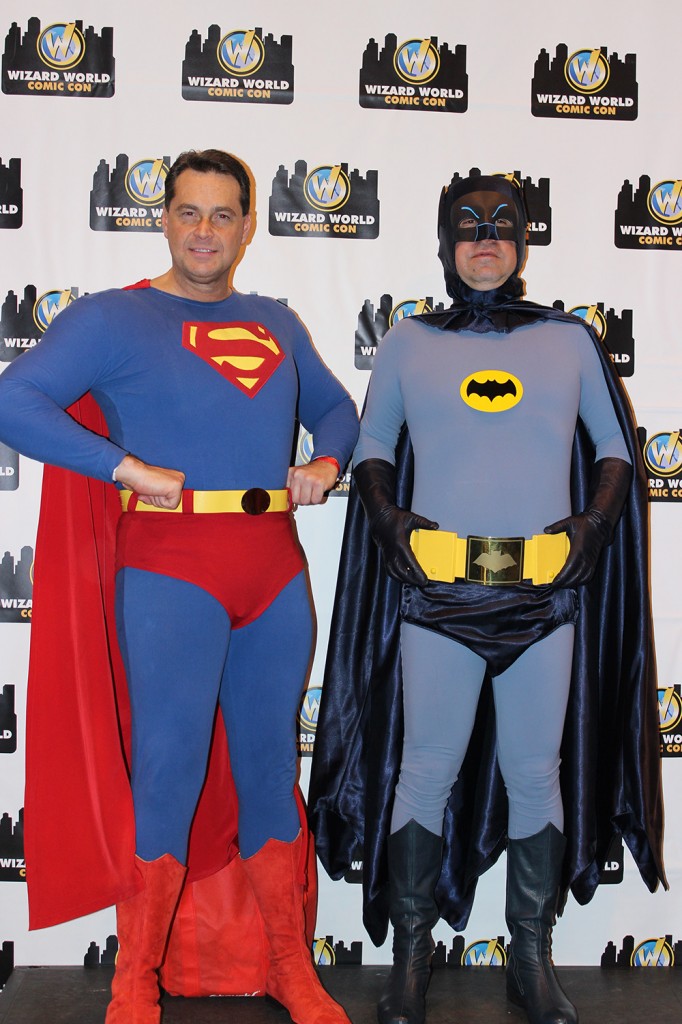 The first Wizard World St. Louis Comic Con kicked off on Friday with huge crowds, as fans lined up around the America's Center to get their first look at what will hopefully become a yearly tradition. Saturday's crows were even more impressive, as Stan "The Man" Lee was in attendance to meet and greet fans, take photos and sign memorabilia.
Sunday's show remains to be impressive, as Billy Dee Williams (Star Wars: The Empire Strikes Back) and Morena Baccarin (Firefly, Homeland) will be featured in Q&As in room 130 – both included in the price of admission.
Click here to purchase tickets.
Jason David Frank, who built a huge following for his role as the green ranger in Power Rangers, will be holding a paid meet and greet at 11am. Other special guests include Laurie Holden (The Walking Dead), WWE® Superstar Randy Orton®, Tom Felton (Harry Potter), James Marsters and Juliet Landau (Buffy the Vampire Slayer), Dean Cain and John Shea (Lois & Clark), Henry Winkler (Happy Days), Lou Ferrigno (The Incredible Hulk) and more.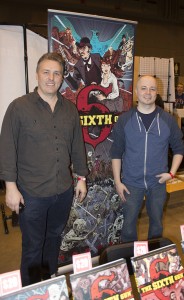 There are also over 100 comic book creators in attendance, signing autographs and meeting fans in autograph alley. These are some of the nicest people you will ever meet, so come out and support the writers, artists, inkers, colorists, and everyone else who makes your favorite comics a reality. Click here to read about St. Louis Local Comic Book talent attending Wizard World St. Louis Comic Con.
Here is a full schedule for Sunday, March 24:
11:00 – 11:45AM JASON DAVID FRANK MEET AND GREET – PAID EVENT
Here's your chance to meet the original Green Power Ranger Jason David Frank in a more private setting, away from the con crowds. Make sure to bring your questions because he will have your answers. Must purchase a separate ticket for this event. (ROOM 122)
11:00 – 11:45AM 50 YEARS IN THE TARDIS
From William Hartnell to Matt Smith, The Doctor has had some amazing adventures in time and space, battling Daleks, The Master and cancellation by the BBC. A panel of longtime fans will bend the laws of time to encapsulate 50 years of great stories, memorable moments, favorite Doctors and universal peril in a celebration of all things Doctor Who. (ROOM 123)
11:00 – 11:45AM PITFALLS, HOW TO'S, AND MUSTS FOR WRITING A COMPELLING STORY
Whether you are a seasoned writer or a brand new one, the journey of writing a compelling story is a tumultuous one. It often time ladened with all kinds of discouraging land-mines or creative dead-ends. In this panel, an experienced team of writers will share some of their secrets to not only completing a compelling story but developing habits to be a more effective writer. Moderated by Tony Kim (ROOM 127)
11:30 – 12:15PM COMIC GEEKS
Join creator Brian Spath as he previews the 30 minute pilot of Comic Geeks, a web series set and shot in St. Louis debuting later in 2013. Brian will also host a Q&A after the showing to answer your questions about the show. (ROOM 120)
12:00 – 12:45PM HOUND KIDS PRESENTS BORDER-PUPS: CRASHBAT AND SUPER SPACE SHERIFFS BOOK READING
Join Brimstone as he reads the Border-Pups children's books Crashbat and Super Space Sheriffs. Follow everyone's favorite Borderhounds featured in their early years as they teach our children the importance of various life lessons including 'speaking kindly to one another' and 'self-esteem' to 'brushing your teeth' as well as tackling pressing and pertinent issues such as 'anti-bullying'. The Border-Pups series is simply good natured literature ranging from pre-school aged children through young readers. Brimstone will play "Brim Says" with the kids and the winner will receive their favorite Border-Pups book autographed by Brimstone. (ROOM 123)
12:00 – 12:45PM WEBCOMICS: TAKING YOUR COMIC DIGITAL
This introduction to the world, making and business of webcomics explores its roots – from simple strip form to ongoing, page-by-page comics adventures. Panelists discuss: what it takes to create and produce a webcomic: how to stay on schedule; how to build a following; whether to go solo or work as a creative team; and the new opportunities for comic creators. (ROOM 127)
12:00 – 12:45PM FIREFLY, HOMELAND AND BEYOND W/ MORENA BACCARIN
Join the lovely Morena Baccarin as she graces the stage at Wizard World St. Louis to discuss how she went from a budding student at the prestigious Julliard School for the Performing Arts, to Jessica Brody in the Showtime series Homeland. Most known for her roles in the television series Firefly, Stargate SG-1 and V, Morena is no stranger to the world of science fiction and will be glad to take you most burning questions about these popular series. Moderated by Rebecca Housel. (ROOM 130)
12:30 – 1:15PM ARCH REACTOR
Members of St Louis co-op hackerspace Arch Reactor talk about the maker culture and demonstrate some of their creations. Moderated by ComicsOnline.com's Kevin Gaussoin. (ROOM 120)
1:00 – 1:45PM VOLTRON FORCE: HOW TO MAKE A CARTOON!
Hey kids! Have you ever wanted to know how cartoons are made? Join the Bob Koplar and Jeremy Corray, the St. Louis producers of the Nicktoons' animated series Voltron Force, as they take you through the steps on what it takes to make a cartoon, from designing the characters, to animation, to adding the sound effects! Prizes will be given away so come ready to learn and ask questions in this fun-filled, family friendly panel! Let's Voltron at Wizard World St. Louis! (ROOM 123)
1:00 – 1:45PM ARTIST ROUNDTABLE W/ RICK BURCHETT, TYLER KIRKHAM, JORGE MOLINA AND CHRIS SAMNEE
What drives an artist to work day in and day out at this profession? What motivates them to get up every morning or in some cases evening, and go back to the drawing board? How do you as an artist get into the industry and once you're there, stay a working artist in the industry. Join artists Rick Burchett (Wonder Woman, The All New Batman: The Brave and The Bold), Tyler Kirkham (Superboy; Teen Titans, Green Lantern Corps, Amazing Spider-Man), Jorge Molina (Uncanny X-Men, Fear Itself, X-Men Legacy) and Chris Samnee (Daredevil, Before Watchmen: Nite Owl, Avenging Spider-Man) as they discuss all this and more in this Q&A session. (ROOM 127)
1:00 – 1:45PM BILLY DEE WILLIAMS Q&A
Lando lands at St. Louis Comic Con, as the coolest man in Star Wars history sits down to take fan questions. (ROOM 130)
1:30 – 2:15PM SWORDS, STEAM, AND SORCERY: AUTHORS TELL ALL
Curious about urban fantasy or paranormal settings? Join four St. Louis area authors as they cover the whole spectrum from urban fantasy to steampunk! How do they create their worlds and magical systems? From werewolves, to demi-gods, to teenage samurai; learn about the fascinating characters that inhabit these stories. Bring questions and these writers give you the scoop. Panelists include: NYT bestselling author Angie Fox (Accidental Demon Slayer series, Monster MASH series), Cole Gibsen (Katana, Senshi), Jeannie Lin (The Lotus Palace, The Sword Dancer), and Shawntelle Madison (Coveted series). (ROOM 120)
2:00 – 2:45PM WIZARD WORLD KIDS COSTUME CONTEST
Calling all kids ages 10 and under to come out and strut your stuff at the Wizard World St. Louis Comic Con Kids Costume Contest. Hosted by our very own superhero, Jarrett "The Defuser" Crippen, you won't want to miss this Kodak moment packed with a whole lot of fun, laughs and prizes for all participants! (ROOM 123)
2:00 – 2:45PM PANEL FLOW IN COMIC LAYOUTS – WORKSHOP
Gene Kelly of Rocketbot.com presents a look at the basics of panel flow and how it can be used to keep your readers engaged, your layouts clear and your action scenes exciting. Applicable to all skill levels, this panel will be half demo and half hands-on instruction, so bring your sketchpad, your problem pages and your questions. (ROOM 127)
2:00 – 2:45PM JAMES MARSTERS & JULIET LANDAU Q&A
Join James Marsters ( Spike) and Juliet Landau, (Drusilla) as they discuss what really went on behind-the-scenes of the hit TV show Buffy the Vampire Slayer, their current projects, as well as their future plans. (ROOM 130)
2:30 – 3:15PM BATMAN AND PYSCHOLOGY
Now that The Dark Knight Rises has concluded Christopher Nolan's Batman trilogy, superherologist and psychologist Dr. Travis Langley (author of the book Batman and Psychology: A Dark and Stormy Knight) delves beneath Batman's cowl to examine the complex inner world of Bruce Wayne in comic books and films. Does Batman have PTSD, OCD, or any other mental illness? Why the mask, the bat, and attraction to the cat he ought to lock up? Why won't he kill that homicidal, green-haired clown? And what lies ahead for Gotham City's masked hero. Is Batman broken? (ROOM 120)
3:00 – 4:00PM THE GREEN POWER RANGER POWER HOUR
Attention children of all-ages, their parents and anyone else that loves karate. Come KICK IT with Jason David Frank in this special hour long karate class. (ROOM 123)
3:00 – 3:45PM R2 BUILDER'S CLUB – SO YOU WANT TO BUILD A DROID?
The R2 builder's club will be on hand to give an overview of what goes into building your very own Astromech Droid! The panel will discuss various materials, costs, and innovations that go into building your very own replica of an R-series droid! Get a chance to ask the builder's any questions you might have and get the information you need to get started on building your droid, contact your regional clubs including St. Louis, Kansas City, and many other regions around the world. You can also check out www.astromech.net for more information. (ROOM 127)
Click here to purchase tickets to Wizard World St. Louis Comic Con 2013.