'Jurassic Park in 3D' Opens April 5! Enter to Win Passes to the St. Louis Advance Screening!
Enter to win a pass for two!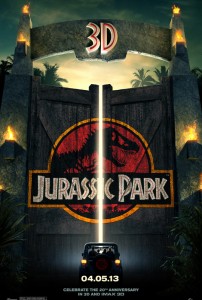 Universal Pictures will release Steven Spielberg's groundbreaking masterpiece JURASSIC PARK in 3D on April 5, 2013. With his remastering of the epic into a state-of-the-art 3D format, Spielberg introduces the three-time Academy Award®-winning blockbuster to a new generation of moviegoers and allows longtime fans to experience the world he envisioned in a way that was unimaginable during the film's original release. Starring Sam Neill, Laura Dern, Jeff Goldblum, Samuel L. Jackson and Richard Attenborough, the film based on the novel by Michael Crichton is produced by Kathleen Kennedy and Gerald R. Molen.
Cast: Sam Neill, Laura Dern, Jeff Goldblum, Richard Attenborough
Director: Steven Spielberg
MPAA: Rated PG-13 for intense science fiction terror
In order to enter the contest, "like" ReviewSTL on Facebook . Then comment on the official contest page below, telling us what your favorite part of Jurassic Park is and why! While supplies last. Passes are available on a first-come, first-served basis.
Winners will be chosen at random from all entries. Supplies are limited. Limit one (1) pass per person, passes admit (2) two. Sponsor's employees and their dependants are ineligible. Screening is overbooked to ensure capacity. Please refer to passes for any other possible restrictions. NO PURCHASE NECESSARY.
Screening will take place Tuesday, April 2 at Wehrenberg Chesterfield Galaxy 14 Cine (7pm).
In Theater April 5