New BlackBerry 10 Has Arrived, Z10 Available Through AT&T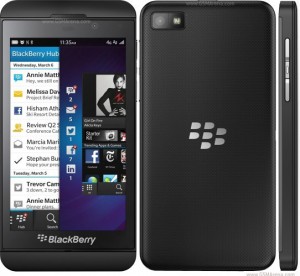 The all new BB10 mobile operating system has officially arrived in the USA!
The first device to showcase the new from-scratch OS is the Z10, a touchscreen slate smartphone similar to many popular choices like the iPhone 5, HTC One series, and Motorola's Droid X line. AT&T released it last Friday for $199.99 with 2-year agreement ($549.99 off-contract), and T-Mobile is offering it for $99 upfront with $18 monthly payments for 24 months (total of $531.99). Verizon will get their own Z10 variant on Thursday the 28th for the same $199.99 with 2-year agreement ($599.99 off-contract). AT&T and T-Mo are selling just the black model, with Verizon carrying both the black model and a white model. Sprint has elected to skip the Z10 for now, but will be offering the keyboard-equipped Q10 sometime in the future. Don't worry, BlackBerry didn't forget about the rest of you QWERTY fans. They will bring the Q10 later this year to AT&T, T-Mobile, and Verizon, possibly in the summertime.
Most recently, T-Mobile switched over to a "no contract" policy. By offering cheaper monthly plans without a commitment, they are hoping to grab AT&T customers away from their expensive plans. T-Mobile is also changing how they sell devices. With other carriers, you pay roughly $200 up front and the remaining cost of the device is included in your monthly bill. T-Mobile now only charges roughly $100 up front, and the remaining cost is explicitly billed to you as long as you're a T-Mobile customer. If you feel like cancelling your T-Mo service, they'll either buy the phone back from you or let you pay off the remaining balance. They'll even unlock the phone before you go!
Whether or not The Company Formerly Known As Reasearch in Motion can find success at this point in the smartphone game remains to be seen. Personally, I've been foretelling the end of BlackBerry since before new CEO Thorsten Heins took over in January of 2012. From what I've seen of BB10, it has impressed me beyond all my doubts. Two key features are the "flow" gestures that take you in and out of apps from anywhere in the operating system and the time-traveling camera that let's you slide back and forth in time to grab the perfect shot on either side of a blinking subject.
Source: TechHive