St. Louis Comic Con Review: A First Timer's Wizard World Experience
Was there anything I didn't like?
Well, other than the weather on the last day, which prevented me from even leaving my house to attend, I'm hoping next year's event will be allotted a little more space. The space between the tables seemed decent when the room was empty, but when it was packed to the brim with people, as it was Saturday, there was hardly room for maneuvering. When you're with a child, it makes it that much tougher to move around and keep track of the wee one.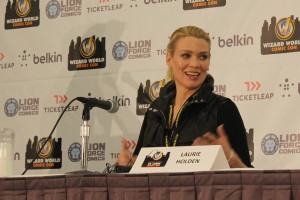 I was also a little confused by one of the Q & A sessions. We got to the session for Laurie Holden about ten minutes late, and when we sat down, I heard the moderator repeatedly say they couldn't talk about "The Walking Dead," the series Laurie is currently starring in. I was pretty confused until Kevin explained that some spoilers had been released at previous Comic Cons, so they were putting a bit of a moratorium on discussions. I can understand their decision to attempt to keep details under the lid, but it was pretty disappointing for them to deny the opportunity to ask about the series, given its incredible popularity. On top of that, Laurie's appearance was being advertised as a member of the cast of "The Walking Dead."

Aside from those minor nitpicks, I thoroughly enjoyed my time at Comic Con, as did everyone else who I saw there. George had an absolute blast and apparently has asked his parents about going to the next one, which is next year, April 4-6. If you didn't get a chance to go this year, I highly recommend you check it out next year. The wait may be excruciating, but the reward is worth it. Bravo, Wizard World.
For more information on Comic Con 2014, check out Wizard World's website. They also have information about Comic Cons in other cities around the nation, so if you're in the mood to travel, check it out!