St. Louis Cardinals Win NLCS, Enter World Series. Four More to Go.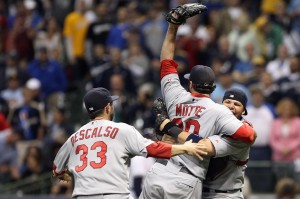 It has to start somewhere.
Believe it or not, we owe a few members of the Milwaukee Brewers organization thanks.
Thanks, Prince Fielder, for hitting the game-winning home run in the All Star game to give us home field advantage.
Thanks, Ron Roenicke, for continuing to pitch to David Freese, even though he was absolutely on fire during the NLCS.
A big thanks to Nyjer Morgan for walking into the lions' den and deciding to make loud noises. Fortunately for you, you'll have plenty of time to work on your tweeting skills in the offseason.
It has to start sometime.
Nobody could have predicted this. If you're saying, "I did," I dare you to back it up. Show me the Sportsbook ticket you have in your possession.
Nobody could have predicted David Freese would abuse Milwaukee's pitching staff, hitting .545/.600/1.091 for the series, smashing three yaks and driving in nine.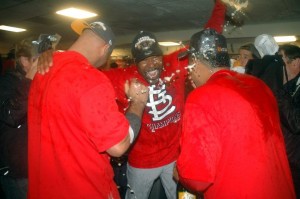 Nobody could have foreseen Albert Pujols recalling his 2004 NLCS glory days, hitting .478/.556/.913 with two bombs and nine RBI.
Absolutely nobody could have seen the Cardinals starting pitchers struggling so badly, yet the team coming up with a series win. Freese hit it on the head; this bullpen deserved the MVP award.
What better place than here?
First the Cardinals beat the team with the best record in baseball.
Now the Cardinals beat the team with the best home record in baseball, taking two out of three on the road.
Baseball's the ultimate team game. Bicker all you want about football being a team sport, blah blah blah. It's a quarterback's league. Michael Jordan and other NBA superstars dominate basketball. In baseball, you're one of nine. Pitchers might strike out ten or twelve a game, but they rely on their defense to get the outs. Hitters get one in nine chances to contribute. If your teammates aren't producing, you won't produce.
Seven different players drove in runs. Each starter either got a hit or drove a run in.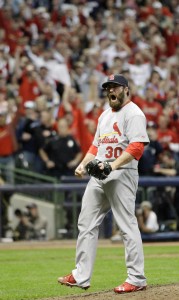 The Cardinals used six different pitchers. After the second inning, the bullpen only gave up two runs.
The Cardinals' defense, much maligned all year, committed a total of two errors in the series. The Brewers committed nine.
The team hit .310 for the series and outscored the Brewers 43-26.
Most importantly, the Cardinals won four, the Brewers won two.
What better time than now?
This game.
It's not over. The Cardinals still have to overtake a tough Texas Rangers team, and it won't be easy. Texas has a sturdy lineup with solid starting pitching.
Whatever you do, though, don't doubt them.
Or maybe you should. Tell them it can't be done.
They like to hear that.
11 10 9 8 7 6 5 4.
All hell can't stop us now.