St. Louis Cardinals Vie For Top Spots in NL All-Star Voting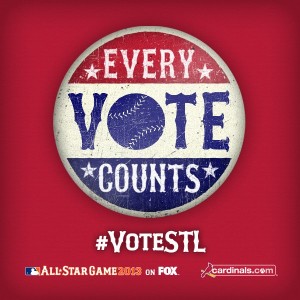 With the Major League All-Star Game under a month away several Cardinals are near the top of the fan voting hoping for a trip to Citi Field.  Voting at Busch Stadium ends June 23rd, but fans can continue to vote online at mlb.com until July 4th.  Here are the voting standings as of June 15th.
First Base
Joey Votto (CIN) leads all first basemen with a little over 2 million votes.  Votto is tops among first basemen in runs scored (52) and second in both batting average and home runs.  With 1.5 million votes Paul Goldschmidt (ARZ) is second behind Votto.  Goldschmidt leads first basemen in home runs (15) and RBIs (59) and is second in runs scored.  Cardinals first basemen Allen Craig is third in voting with 1.2 million votes.  Craig ranks second in RBIs and third in both average and runs scored.
Second Base
Brandon Phillips (CIN) leads Marco Scutaro (SF) by 300,000 votes.  Phillips, a perennial all-star leads second basemen in RBIs (56) and is second in home runs.  Scutaro is tops in average (.332) but may yield some ground in the voting due to a recent injury  which has him listed as day to day.  The Cardinals Matt Carpenter trails Scutaro by only 200,000 votes and Phillips by 500,000.  Carpenter leads all second basemen in runs scored (52) and is second in average to Scutaro.  Scutaro may have the upper hand as the backup to Phillips however; reserve players are chosen by the manager which this year is awarded to San Francisco manager Bruce Bochy due to the Giants claiming the NL Pennant last season.
Third Base
Giants third baseman Pablo Sandoval holds a narrow lead over the Mets corner infielder David Wright with only about 100,000 votes separating the two.  Sandoval just started his rehab from a recent injury and may not be healthy in time to play in the game.  With Sandoval out, Wright will most likely receive more votes during the remaining weeks and win the starting job.  Wright ranks in the top 3 among third basemen in average (2nd), home runs (1st), runs scored (2nd), and RBIs (3rd).  Wright also leads all third basemen with 12 stolen bases, 8 more than his closest rival.  Local hero David Freese is a distant third in voting and sits nearly 1 million votes behind Sandoval and Wright.  Freese has recovered from a slow start of the season and has been one of the league's best hitter over the last month.  If Sandoval is unable to play Freese could be the logical replacement.
Shortstop
Troy Tulowitzki (COL) is significantly ahead of his counterparts at shortstop in votes and rankings.  Tulowitzki is 1.2 million votes ahead of Brandon Crawford (SF) and 1.3 million votes ahead of Jean Segura (MIL).  Tulowitzki 's .347 average, 16 home runs, 51 RBIs, and 41 runs scored all are tops at the position.  The caveat, Tulowitzki recently suffered a rib injury that most likely will keep him out of the game.  Segura has been one of the most overlooked players this season, ranking just behind Tulowitzki in the aforementioned categories while also contributing 19 stolen bases.  Segura will be the most likely candidate to replace Tulowitzki.  (Injured players who are voted in are replaced by the manager.)   St. Louis shortstop Pete Kozma is fourth in voting; over 1.5 million votes behind and is a long shot to make the team.
Catcher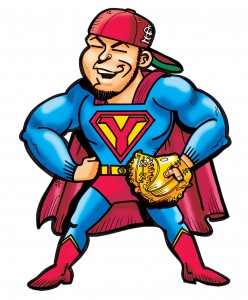 The race at catcher is down to a two man race.  Cardinals favorite Yadier Molina and San Francisco Giant Buster Posey both have over 2.5 million votes leading their nearest competitor by over 1.6 million.  These are the two best catchers in baseball today.  Both players deserve to make the All-Star team, and both players will make the All-Star team, the only question is who will start and who will back-up.  Molina, the league's leading hitter, trails reigning MVP Posey by only 40,000 votes.  Both players bat over .300, both have approximately 40 RBIs and 30 runs scored.  Posey is good defensively, but Yadi is great.  There is no wrong vote between the two, but if you will excuse my "homerism" for a moment, I would not be a true St. Louis fan if I did not throw my support behind Yadi (there is still time to go vote Cards fans).
Outfield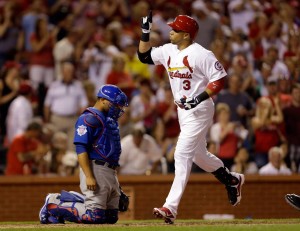 Cardinals right fielder Carlos Beltran leads all outfielders with almost 2.4 million votes.  Beltran who ranks in the top four in batting average (4th), homeruns (3rd) and RBIs (4th) leads Justin Upton (ATL) by 300,000 votes.  Upton who started the season red hot has struggled lately.  After batting .298 with 12 homeruns in April, Upton has batted below .220 with only 3 homeruns total in May and June.
In third position is Washington Nationals left fielder Bryce Harper with just under 2 million votes.  Harper, last year's NL rookie of the year, is having a solid sophomore season but does not rank in the top 5 in any traditional offensive category.  To complicate the matter, Harper has been battling a knee injury this season and has recently been placed on the disabled list.  He should be back in time for the game, but the missed time may cost him some points with voters during the stretch run in the voting period. Right behind Harper is Ryan Braun (MIL).  Braun is putting up good numbers this season, although not the numbers most people have come to expect from him.  His .304 batting average does rank 5th among all NL outfielders, but he is significantly behind the league leaders in homeruns, RBIs, and runs.  Braun's off-the-field issues have likely also reduced the number of votes he receives outside of the Milwaukee area.
Sitting in 5th position is Colorado outfielder Carlos Gonzalez.  "Cargo" is a lock to make the All-Star Team.  With Upton struggling, Harper hurt, and Braun battling steroid accusations, Gonzalez may make the move into the top 3 vote getters earning a starting spot.  Even if he does not get voted in, it is hard to imagine that Bruce Bochy will leave Gonzalez off the roster.  Gonzalez leads all NL outfielders in homeruns (20), RBIs (56), and runs scored (58), and is third in batting average.    Additionally he as swiped 13 bases this season.  Cardinals Matt Holliday is currently in sixth in voting with 1.3 million votes.  Holliday, who is second in runs and sixth in RBIs has an outside chance to be selected as a reserve or possible designated hitter candidate, but with 4 (and maybe more) other Cardinals already represented in the All-Star Game, Bochy may elect to have more representation from other teams in the league with his outfield reserve picks.  Other notable outfielders who may be reserve picks include Andrew McCutchen (PIT) currently 7th in voting, Carlos Gomez (MIL) who ranks in the top 8 in all traditional offensive categories for outfielders but is currently 11th in voting, and Domonic Brown (PHI) who is second in both homeruns and RBIs among NL outfielders but is 14th in voting.  Cardinal Jon Jay is 13th in voting and is unlikely to play in the game.
Pitching
Ok, so pitchers are not voted on by fans, but the Cardinals mound-men should still be well represented.  Wainwright is a virtual lock to make the team barring injury.  Fellow starters Shelby Miller and Lance Lynn may also garner some interest from manager Bruce Bochy.  It is doubtful that both will be selected, however it would not be surprising to see one of them picked.  There is also a strong argument to send closer Edward Mujica to the All-Star game.  Mujica is second in the national league in saves converting 21 of 21 save opportunities and has not allowed a walk in any of his closing opportunities; only allowing 1 base-on-balls in total all season while striking out 27.  Other notable pitchers who are likely candidates to make the All-Star team include:  Cliff Lee (PHI), Jordan Zimmerman (WSH), Patrick Corbin (ARI), Clayton Kershaw (LAD), Matt Harvey (NYM) and Jason Grilli (PIT).
The All-Star Game will be broadcast from Citi Field in New York on July 16th can be seen on Fox at 6:30 PM .  The next voting update should be available on June 23rd and is available at mlb.com.