St. Louis Cardinals – One Last Measure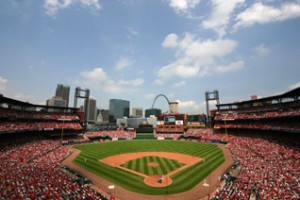 Baseball is a game of measurement.
One hit ball a half inch lower on the barrel could mean the difference between a 90-foot pop up and a 400-foot home run.
One short stride can mean the difference between an inning-ending double play and another chance to score a run.
One thrown pitch six inches across the zone could turn into a 90-foot stroll for a base runner.
One week can turn a hero into a goat; a rental player into a legend.
One game can turn a season of euphoria into a winter of bitterness.
If you're the Yankees, any season that doesn't end with a World Series championship is considered a failure. In the strictest terms of sports, this makes sense.
For me? Looking at this past 2012 season and the Cardinals, I couldn't disagree more.
This might have been the most emotional and entertaining team I've ever followed. Sure, the postseason run of 2011 was incredible; it may never be topped in terms of moments of incredulity. This year's edition? You couldn't figure them out if you were paid to try.
More than any other team, these Cardinals might just encapsulate the spirit of baseball in a 25-man roster. When this team was running on all cylinders, they played beautiful baseball.
There were moments that lasted a couple of minutes. Daniel Descalso tying the game with a two-run single. Peter Kozma following with a two-run single to conclude the greatest comeback in postseason history.
There were moments that lasted an inning. I had the good fortune of being at the Cardinals game in July with my lovely friend Christine (a Cubs fan, no less) when the team banged out seven doubles and 12 runs in one inning, a record.
There were moments that spanned the entire season. Before this season, never had the Cardinals had five hitters in the lineup with 20 or more home runs. This year, they did that for the first time in their 131-year history: Allen Craig, Carlos Beltran, Matt Holliday, David Freese, and Yadier Molina.
There were moments fans of all generations could appreciate. Chris Carpenter having a rib (!) removed and being expected to come back next season. So what's he do? He takes the rib home to his daughter and comes back and wins a game in the NLDS. Even older fans who speak in hagiography terms about old-timers such as Bob Gibson have to appreciate that.
Of course, these moments were also dotted with heartbreak. Just as soon as the Cardinals gained momentum, they broke down. A team that scored 765 runs in the regular season, second-most in the NL, managed one in the final three games of the NLCS. A starting pitching rotation that boasted four pitchers who won 13 or more games suddenly couldn't get out of the fourth inning.
When the Cardinals went up 3-1 last Thursday after a resounding 8-3 victory, it just felt like maybe this year, the Cardinals could repeat. Believe it or not, it's never happened in the history of the team. The closest they've ever gotten was in the 1940's, when they won in '42, '44, and '46 and lost in the '43 series. They've only gone to back-to-back World Series two other times (1930-31 and 1967-68). Even the Cubs have done it (although it's been over a century).
But then, the uncertainties settled in. Barry Zito, in the midst of his own up-and-down season, suddenly regained his Cy Young form. Ryan Vogelsong, a 34-year old who didn't even pitch in the majors for four years before the Giants picked him up last year, dominated what should have been a juggernaut offense. Tonight, well, you saw what happened tonight.
One game away from a second consecutive World Series.
Three chances. So close, and yet they weren't really close at all.
Certainly there's room for improvement. Mike Matheny's a rookie manager, and it showed at times. I'm sure if you asked him, he'd tell you there were situations he wished he'd had back. The bullpen faltered at times. The offense was maddeningly inconsistent.
And yet.
I still can't help but look back upon this season and be proud of the Cardinals.
The departures and losses have been well-documented.
The team's manager for the last 16 years: retired.
The team's seminal pitching coach, regarded as among the best in the business: on leave.
The team's greatest hitter, perhaps the third-greatest hitter in franchise history: gone.
The team's winningest post-season pitcher: injured.
The team's first baseman, who starred for the team last year after coming from Houston: injured.
And so on. Somehow, this team still managed to win 88 games. Still won eight games in the postseason.
Just sit back and think about that. Imagine if the Rams hired Kurt Warner as a first-time coach, but then Steven Jackson left in the off-season, Sam Bradford missed the regular season, James Laurinaitis missed the regular season, and they still made it to the NFC championship.
Imagine if the Blues hired Keith Tkachuk as their head coach, David Backes left in the offseason, Alex Pietrangelo missed the regular season, David Perron missed the regular season, and they still made it to the Western Finals.
Perhaps those are unfair analogies, as those teams had nowhere near the recent success as the Cardinals and thus, lower expectations. Still, you get the point. Pretty remarkable if you ask me. This team made you cheer, laugh, scream in anger, perhaps cry, sometimes all in the span of a single night. And yet they were still nine innings away from playing for baseball's highest honor.
It's disappointing, to be sure, but there were 26 other teams who would have loved to be in the position the Cardinals were in.
And the best part? Some other teams pay lip service to their fans with the old "there's always next year." Well, for the Cardinals, you can truly say that with a measure of hope.
Allen Craig missed part of the regular season but still finished batting .307/.354/.522 with 22 HR and 92 RBI.
Yadier Molina had his best offensive year and is all but a lock to get his fifth consecutive Gold Glove.
Carlos Beltran and Matt Holliday went through brutal second halves, but still put up some pretty impressive numbers.
David Freese, in his first fully healthy season, hit 20 HR and drove in 79 runs.
Matt Carpenter, a utility revelation, managed to hit every time he played. He played first, second, third, left field, and right field, and this off-season he'll be working with Jose Oquendo to get a better feel for second base.
The Cardinals had some incredible young arms develop in the bullpen. Joe Kelly was an effective fill-in starter when Jaime Garcia went down. Shelby Miller, the team's number one prospect, finished with a 1.32 ERA in six games and took a no-hitter into the sixth inning of his first career major league start. And then there's Trevor Rosenthal, the 22-year old Missouri native who throws soft toss at 90 miles an hour. With the uncertainty facing the rotation next season (Carpenter and Wainwright the only "healthy" pitchers signed; Westbrook and Garcia both finished the season on the disabled list, while Kyle Lohse is extremely unlikely to return), these three could get extended shots to earn a spot in the rotation.
Looking even further down the road, if you haven't heard of Oscar Taveras by now, start paying attention. The 20-year old just might be the best-hitting prospect in all of baseball. Kolten Wong had an excellent season at Springfield and is doing well in the Arizona Fall League. Ryan Jackson spent the last month in the majors as a backup. Greg Garcia's developing nicely.
And this isn't just a fluke. In recent years, the Cardinals have developed the tremendous ability to produce homegrown talent. On the Cardinals' postseason roster, 19 of the 25 players made their major league debut in a Cardinals uniform. Sustainability is the cornerstone of success, and this team could be a contender for a long time.
Or maybe not. Maybe I'm just grasping for straws. Maybe I shouldn't already be counting down the days until spring training.
But I am. I'm a Cardinals fan. That's what we do. It's another measurement of how far this team has yet to go. Come next year, when our emotions aren't so raw, perhaps we can look back on this 2012 team and see just how far they've come.
* – Note: an earlier version stated Wainwright was unsigned for next year. The Cardinals did in fact pick up his option for 2013. Thanks to Aaron Hunter for the correction.