St. Louis Cardinals Land John Axford, Reshuffle Bullpen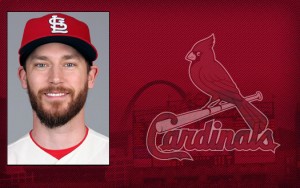 The Cardinals are preparing for the stretch run by adding some bullpen depth, acquiring John Axford from the Brewers in a trade this morning.   Milwaukee will send their former closer to the Cards in exchange for a player to be named later.
The 30-year-old right-hander was dominating in 2011 racking up 46 saves (part of a streak of 49 consecutive saves) with an ERA of 1.95.  2012 and 2013 were not as kind to Axford however; he has since lost his role as the teams closer and has an ERA over 4.50 during that time.  Axford is a big pitcher at 6'5" and is best known for his fastball (mid- to upper-90s with a slight downward break) but will also mix in a curve and slider as his primary pitches.  It is unclear how the Cardinals will use Axford, but the acquisition does give the Cardinals more freedom to try to move some of their bullpen pitchers around to fill in the gaps in the starting rotation.  He may also be used to spell Trevor Rosenthal or Edward Mujica on occasion, but look for his primary role to be in the 7th inning.  We should get our first chance to see Axford tonight as he is set to join the club in Pittsburg prior to the game and will wear number 34.
This trade caps off a busy week of bullpen moves, both Carlos Martinez and Michael Wacha were sent back to the minors, Martinez to Triple-A Memphis and Wacha to Double-A Springfield.  The move for Martinez was most likely to allow him to stretch out his innings so he will be available fill in for Jake Westbrook, who was placed on the 15-day disabled list, when he returns to St. Louis.  Martinez looked sharp for Memphis Thursday night against the New Orleans Zephyrs going 7 innings while striking out nine batters and only allowing one run.  The move of Wacha to Springfield also makes sense, as the Double-A season ends on Monday allowing the Cardinals to call him back up on Tuesday, avoiding the typical mandatory 10 day wait before re-calling a player to the majors.
Should you be worried about all the bullpen moves over the last few days?  No.  The last week of August is usually a very busy week for teams in contention to shuffle their rosters.  It allows teams to call up fresh arms while allowing a brief rest for some of their other players before they all return to the majors during the September roster expansion.  The Cardinals have taken advantage of this situation sending down the aforementioned Martinez and Wacha, as well as Tyler Lyons and Michael Blazek, who was only up for one game.  To fill in the roster spots, the team has called up Sam Freeman and Fernando Salas, the newly acquired Axford will take the roster spot left open after Blazek was optioned on Thursday.
***Update:  At 2:30 pm, the Cardinals optioned Triple-A pitcher Carlos Martinez to Double-A Springfield.  This move will also allow Martinez to rejoin the major league club on Tuesday when Springfield's season ends.