St. Louis Cardinals Look to Build Mound Presence in 2013 Draft
Every year in early June, one of the most important and exciting–albeit overlooked–days of the Major League Baseball (MLB) season occurs, the first-year player entry draft.  Last week this day came and went without the prime-time fanfare of the NFL and NBA drafts; in fact most casual fans did not even know it took place.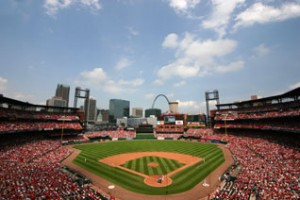 During the three-day event, over 1200 young athletes were selected by the 30 MLB teams to restock their minor league systems and build for the future.  Unlike the lottery drafts of the NHL and NBA, Major League Baseball determines picks based generally on regular season standings in reverse order of record (there are additional compensation picks and rounds that can be granted to teams who lost certain free agents during the offseason).  The worst record in the 2012 season belonged to the Houston Astros (55-107) and with the first pick they selected Mark Appel, the top ranked prospect according to MLB.com.  Appel is a hard throwing right-handed pitcher who played his college baseball at Stanford University.  He has an excellent fastball (95-97 mph) with deceptive movement and has developed above average secondary pitches, throwing a slider and changeup with good control.
The Cardinals had two selections in the first round of this year's draft, the 19th pick and the 28th pick (given as compensation from the Milwaukee Brewers when they signed Kyle Lohse), and 41 total selections over the three-day draft.  So how did the Cardinals fare?  First of all, it is important to point out that the current regime of GM John Mozeliak has earned some credibility with their recent selections.  Players like Michael Wacha, Lance Lynn, Matt Carpenter and Shelby Miller are all already making star contributions in the majors.  Currently 11 of the 25 players on the active roster have been drafted by Mozeliak since 2008.  It is always risky to base future success on past performance (especially in baseball), but if the last 5 years are any indication of what to expect, there should be some excitement with the Cardinals new crop of picks.
As is evident this season, you can never have enough pitching; even when you think you are stacked you need more.  This mantra dominated the Cardinals' selections with 22 of the 41 picks hoping to someday make an appearance on the mound of Busch Stadium.  The Cardinals also added some infield depth, selecting 11 infielders.  The remaining 8 picks were 5 outfielders and 3 catchers.  Both of the selections in the first round were left-handed pitchers, Marco Gonzales (19
th
) and Rob Kaminsky (28
th
).
Gonzales, a 21 year old, spent 3 seasons with Gonzaga University and this summer played on the Team USA National Collegiate team.  The 6' 1" 195lbs pitcher throws a low to mid 90s fastball with good command and mixes in the slider as an off-speed pitch.  His go-to out pitch is his changeup, which is good enough to gain him the #14 overall ranking prior to the draft, according to MLB.com.  During his college career, he also spent some time playing shortstop, but it is unlikely that he will continue as a middle infielder during his time in the Cardinals' system.
Kaminsky, a soon to be 19 year old was selected out of St. Joseph Regional High School (New Jersey) and is considered to be one of the top high school players available in this year's draft.  His fastball clocks around 95 mph and he mixes in a hard slider, but he will need to develop some additional secondary pitches moving forward.
Finishing off the first day of the draft, the Cardinals selected Oscar Mercado, the top high school shortstop available in this year.  Mercado just finished his senior season at Gaither High School (Florida).  Mercado's most notable attributes are in the field, where he is considered a sound defensive player with an above average arm.  Mercado has good speed on the base paths as well, and could be a potential stolen base threat in the future.  MLB.com ranks Mercado as the 36th best player available in the draft but he fell to the Cardinals at pick number 57, probably because there is some question on his offensive potential.   The Cardinals believe there is no rush to get Mercado to the majors since he is only 18 years old, so their focus will be on building strength at the plate with the young shortstop.
For a full list of the Cardinals draft choices make sure to check out foxsportsmidwest.com.  Additional rankings and evaluations of players are also available on mlb.com.