Who Wants to See JUST WRIGHT tonight? Starring Queen Latifah, Common
JUST WRIGHT Opens May 14 Nationwide
Check out an advance screening tonight!
Synopsis: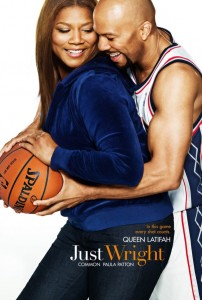 Leslie Wright, a straight-shooting physical therapist, gets the gig of a lifetime working with NBA All-Star Scott McKnight. All is going well until Leslie finds herself falling for Scott, forcing her to choose between the gig of a lifetime and the tug-of-war inside her heart. Oblivious to her romantic overtures, McKnight is instead drawn to the affections of Leslie's gorgeous childhood friend Morgan, who has her sights set on being an NBA trophy wife. Is Leslie destined to play the role of "best friend" forever or will Scott finally see that what he always wanted is right in front of him?
Check out an advance screening of JUST WRIGHT tonight at the AMC Creve Coeur 12! For passes, visit gofobo.com and enter the code:
REVIEWWJH9
PLEASE NOTE: The code can only be used a limited number of times, so make sure to claim your passes before they are gone!
Watch the trailer for JUST WRIGHT –