"Divine Misdemeanors" by Laurell K Hamilton (Book Review)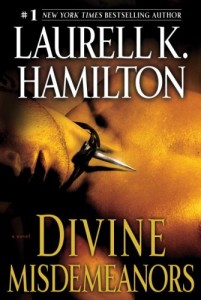 Laurell K Hamilton is mostly known for her vampire hunter series, but a few years ago, she started another series, the Merry Gentry – Faerie Queen. This is the latest installment for that series and it is truly fun to read. The reader is able to pick this book up and understand most of the history that came before (although I highly recommend reading the whole series).
The tale revolves around Merry Gentry, exiled queen of Faerie, now living in Los Angeles and working for a private detective agency. She and her consorts (Ms. Hamilton nevers lets these ladies have ONE lover, pshaw!) are called to duty to try and find the killer of their own fey kind. This is a hard task, as Merry cannot go anywhere in LA without the paparazzi chasing her down. But the killer is getting away with horrendous crimes against her people and she will hunt themuntil death…hers or theirs. The backgrounds are pure Hollywood, the story is full of intrigue and smoke and…mirrors! But you stay involved in the story and can't put it down until you are done with that final chapter.
This is yet another wonderful chapter in the series and again, Ms. Hamilton seems to have gone back to basics in her writing. She has lightened up on the sex and put back some more suspense. These books are a fun read, and give one a sense of escapism, even if just for a few hours.