Sprint Mode – The St. Louis Cardinals
I've come to the realization that the Cardinals this season are much like my ex: immensely frustrating at times, but always tempting enough to lure me back from time to time. They also never cook for me and pretend they don't know me in public.
With 39 games remaining, the Cardinals have essentially backed themselves into a corner. After sweeping the Marlins, there was hope that the showdown against the Brewers would help gain ground. Instead, the Cardinals dropped two out of three. A series win against Colorado didn't do any good, either, as the Brewcrew swept the Pirates and have won their first two against the Dodgers, while St. Louis has lost its first two to the Pirates.
At 65-58, the team finds itself a full seven games out of first place. No, the season isn't completely over. The 1964 Cardinals were 6.5 games out with 12 games left and managed to overtake the Phillies. It will be tough, however, with Milwaukee playing well above their talent level and their starting pitching completely dominating opponents.
Some thoughts.
Reports of Pujols' Demise Have Been Somewhat Exaggerated
Remember his long homerless drought and slow start to the season? Yeah, you. The one who said he was done. The Machine heard you.
You may have forgotten that Pujols' best two months historically are August and September. Maybe you didn't. Either way, Pujols is heating up. Admittedly, he hasn't hit well against the Brewers. For the month of August, however, he is hitting .317 with 6 HR and 11 RBI and now paces the league in home runs and runs scored. He's also crept into the top ten in RBI and slugging. His slashlines are slowly ascending to the level we've come to expect as well, .288/.354/.545. Tonight should give him a great chance to improve those numbers further: against Pittsburgh starter Paul Maholm, he's hitting a ridiculous .583 and slugging .944.
On the flip side, Matt Holliday and Lance Berkman have been table setters, but haven't done much to drive runs in the last few games. Holliday's hitting .327 for the month and does have 4 home runs and 12 RBI, but much of that damage came in Florida; he has just two RBI in the six games since. Berkman, on the other hand, has just four RBI in August despite hitting .333 and hasn't hit a home run this month. Still, he's hitting the ball and is getting on base, drawing 11 walks this month. If Tony's in the mood to change things up, perhaps he should consider putting Berkman second and putting David Freese in the five spot. David's hitting .350 this month and has driven in seven runs in his last five games.
Furcal
Since the trade to get Rafael Furcal, his struggles have the plate have improved only marginally. He's hitting .215, although he does have two home runs and six RBI.
His real contributions have been in the field, however, where he's helped stabilize the left side of the infield, displacing Ryan Theriot and relegating Skip Schumaker to a reserve role. Furcal is a solid defender with a plus arm and better range than Theriot, who in limited time has displayed better range and ability at second than Skip. Odds are Skip will see more time as the fourth outfielder, spelling Berkman and Jay when they need off days.
Izzy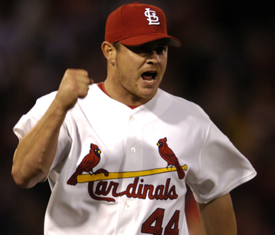 Finally, congratulations to former Cardinal Jason Isringhausen, who notched his 300th save with the Mets this week. The Illinois native became a whipping boy for Cardinals fans his last couple of seasons here when injuries took their toll on his effectiveness, but he had a sub-3.00 ERA in five of his seven seasons here and averaged 31 saves per season spent in a Cardinals uniform. He saved a league-high 47 games in 2004 and was an All-Star the next season.
It's unfortunate that his stay in St. Louis was abbreviated by injuries, and by the end of his term he was pretty much an outcast in the eyes of Cardinals fans. He did a great job for several years solidifying the back end of the bullpen, and I think he's probably the most underappreciated Cardinal of the last twenty years. Seeing him get a milestone he desperately wanted was icing on the cake at the back end of a career that will most likely end in a year or two, if not sooner.