Tom Clancy's Splinter Cell: Conviction Trailer and Featurette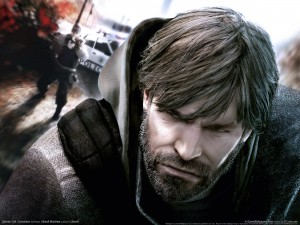 Coming exclusively to Xbox 360®, Tom Clancy's Splinter Cell Conviction is the highly anticipated sequel in the multimillion-selling Splinter Cell series and one of the most critically acclaimed Xbox franchises of all time.
An investigation into his daughter's death unwittingly leads former agent Sam Fisher to discover he's been betrayed by his former agency, the Third Echelon. Now a renegade, Fisher finds himself in a race against time to thwart a deadly terrorist plot that threatens millions.
Uniting revolutionary gameplay enhancements with a high-octane, no-holds-barred storyline, Tom Clancy's Splinter Cell Conviction arms you to the teeth with all the high-tech weaponry and lethal skills of an elite operative and invites you to enter a dangerous world where justice means making your own rules.
New level of action: A full arsenal of cutting-edge innovations allow you to outflank foes with the Last Known Position™ system, tag and eliminate enemies using the Mark and Execute™ feature, and much more.
Blockbuster experience: A unique storytelling style keeps you on the edge of your seat as you navigate the explosive world of a renegade agent where trust is impossible and justice requires you to go above the law.
A new level of immersion: A revolutionary new graphic direction delivers an utterly seamless gameplay experience that'll keep you totally engrossed in the story of Sam Fisher.
Explosive Xbox LIVE play: Brand-new addictive multiplayer modes amp up the dramatic intensity like never before.
Trailer:
Featurette: