SORORITY ROW comes out next Friday! Want to see the sneak preview on Thursday?
ReviewSTL.com invites you and a guest to attend a special advance St. Louis screening of "SORORITY ROW".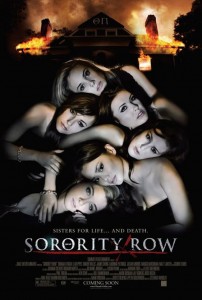 Enter for your chance to win a pass good for two!
Screening is 9/10 at Ronnie's 20
NO PURCHASE NECESSARY
OPENS NATIONWIDE SEPTEMBER 11
Please note that winning passes to "SORORITY ROW" does not guarantee admission to the film. You must arrive early as seating is first-come, first-served. It is usually safe to arrive at least 1 hour or more before show time!
Synopsis:
Sexy college juniors CASSIDY (Briana Evigan), JESSICA (Leah Pipes), CLAIRE (Jamie Chung), ELLIE (Rumer Willis) and MEGAN (Audrina Patridge) are sorority sisters sworn to trust, secrecy and solidarity, no matter what. But their loyalty is tested when a prank at a raucous house party goes terribly wrong and Megan ends up brutally murdered. Rather than confess to the crime and risk destroying their bright futures, the girls agree to hide the bloody corpse and keep their secret forever.
Fast forward one year to graduation. As they prepare to say goodbye to the house and each other, the girls plan one last alcohol-fueled bash on Sorority Row, confident their dark secret remains buried. But does it? As the party rages in the front yard, the bedrooms and the hot tub, the girls receive cell phone videos taken the night of Megan's murder from an anonymous sender who threatens to forward the videos to the police. Then, one by one, the sisters and their unsuspecting boyfriends are stalked by an unseen killer.
Has Megan returned from the dead to exact her revenge? Or was their secret discovered by someone else — someone now determined to make them pay? Trapped, the girls race to figure out which of them let their secret slip, who wants them dead, and how to fight back as the bodies pile up and their beloved sorority house explodes into flames. A heart-stopping climax reveals the killer's shocking identity in this suspenseful, hip and sexy remake of the 1983 classic horror thriller.
In order to enter the contest, simply leave a comment below with why you want to see the movie. Winner will be notified via e-mail.
Good luck! We hope to see you at the movie.
WATCH THE TRAILER