Smartphone Review: Samsung Galaxy S4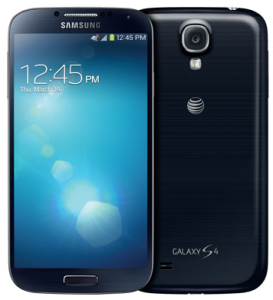 Smartphones are getting ridiculous these days. When was the last time you bought something that had its own special unveiling event in a major metropolitan area that was broadcast on the internet for the world to see? Did they do a full stage theatrical show to demonstrate all the cool features of this product? Was there an entire pit orchestra providing the background ambiance? If you want to learn about ridiculous, Samsung can teach you about ridiculous.
View the Samsung Mobile Unpacked 2013 event in all its glory.
If you skipped over that video, I implore you to just watch the first 2 minutes of it. And if you can survive that, things get real crazy at the 17 minute mark. Does a cell phone need this kind of hype? Does any gadget deserve this much fanfare?
But the Samsung Galaxy S 4 isn't just any gadget. It's one of the top selling Android phones on the market from the #1 top selling smartphone manufacturer in the world. If you ditched your iPhone, it was most likely for this phone. What does it take for someone to completely abandon one ecosystem for another? Take a look at the hardware in the AT&T GS4 model:
4.99-inch 1920×1080 Full HD Super AMOLED display, with 441 pixels per inch and protected by Corning Gorilla Glass 3
Qualcomm Snapdragon 600 System-on-Chip: 1.9GHz quad-core CPU, Adreno 320 GPU
2GB LPDDR3 RAM and 16, 32, or 64 GB internal storage configurations, along with a microSDXC slot that supports up to 64GB cards
13MP (4128×3096) rear camera that records 1080p video @ 30fps, with features such as autofocus, digital image stabilization, face detection, smile detection, geo tagging, HDR, panorama, photo filters, self-timer, and voice-activated shutter (say "Cheese!" or "Smile!" to capture a photo)
2MP (1920×1080) front-facing camera that records 1080p video @ 30fps
802.11a/b/g/n/ac Wi-Fi including 5GHz support, with Bluetooth 4.0
Near Field Communication (NFC) connectivity for tap-to-pay and tap-to-share features
Qi inductive charging compatible with the optional backplate (sold separately though)
Infrared Blaster to act as a remote control for your television, sound system, and cable box
microUSB port that's compatible with both USB host (for attaching peripherals such as USB hard drives or USB game controllers) and MHL 2.0 (video output to your HDTV over HDMI)
S-View Covers that expose a small window of the device's display for showing battery status, time, and notifications so you don't have to turn on the screen completely just to check on the status of your Galaxy S 4
Notification LED that lights up red when charging, blinks red when battery is low, or blinks blue if you have any missed notifications
It features an accelerometer, gyroscope, proximity sensor, and ambient light sensor like many other popular phones, but they also include a gesture sensor, Hall Effect sensor (for the S-View Covers), hygrometer (humidity), magnetometer, barometer, and thermometer
Supports the following music formats: MP3, FLAC, WAV, OGG, Vorbis, AAC, AAC+, eAAC+, WMA, AMR-NB/WB, MID, AC3, IMY, RA
All this in a device that's 7.9 mm thin. Pretty stacked, right? Now let's dip into software:
Eye tracking features, such as Smart Scroll that allows you to tilt the phone to scroll up or down in an app, Smart Pause that will step in and pause your video if you look away from the screen, and Smart Stay that will keep your display from timing out while your eyes are open
Gesture tracking features, such as Air View that allows you to wave your hand to browse your photos or hovering your finger over the screen to magnify a webpage
Multi-Window for displaying two apps at once on the screen
Capturing screenshots by swiping the side of your hand across the entire display
Automatically calling a contact on your screen by putting the phone up to your ear
Easy Mode for your homescreen that makes it easier for first-time smartphone owners with a simpler layout and bigger icons
DLNA for wireless video beaming and screen mirroring to a compatible HDTV
Kies via Wi-Fi to wirelessly connect to your device from your PC to update firmware or access/sync your messages, contacts, photos, videos, music, and files in your PC's web browser
All this baked into the Android software. Had enough? Now let's dip into Samsung's software suite:
Group Play: which creates an ad hoc wireless Wi-Fi access point for sharing files and playing multiplayer games between other Samsung Galaxy devices by tapping phone together with NFC to initiate the connection
Optical Reader: an app that will fire up the rear camera to scan words and give instant definitions or read them back to you, and also doubles as a QR code reader
S Health: monitor calorie intake, calories burned, tracking your daily food, fitness, glucose levels, and blood pressure measurements into a single "health calendar"
S Memo: note taking app… you can take notes
S Translator: similar to Google's Conversation Mode in their Translate app, you can fluidly carry a conversation with someone that speaks a different language
S Voice: Samsung's voice assistant to replace Google Now and attack Siri
Samsung Apps: Samsung's own app store for all their TouchWiz apps as well as some familiar favorites found in the original Play Store as well as Amazon's Appstore
Samsung Hub: a store for digital music, movies, books, and games
Samsung Link: a cross-platform service for remotely accessing your files
Story Album: create a digital scrapbook and display your photos in a slideshow of various layouts and themes
WatchOn: your TV guide right on your phone, it can remind you when your favorite shows are coming on TV and even switch to the correct channel with a single tap
All this exclusive to Samsung Galaxy devices. Think I've covered everything? Now let's dip into the camera:
12 Camera Modes: Auto, Night, Sports (quick movement), Panorama, Eraser (takes 5 consecutive shots and erases people walking in the background), HDR, Animated Photo (select a part of a photo to animate), Drama (merges multiple shots of a moving subject into a single shot), Sound & Shot (records a clip of audio to go with your photo), Best Face (takes the best face of everyone in a group from 5 photos and merges it into one shot), Best Photo (picks the best photo out of a series for you automatically), Beauty Face (enhances portrait shots)
12 Camera Filters: Vignette, Grey-scale, Sepia, Vintage, Faded Color, Turqoise, Tint, Cartoon, Moody, Rugged, Oil pastel, Fisheye
Dual Shot: take a photo with the rear camera and place a photo of your face taken with the front camera into the same shot
Samsung tagged this device with the phrase "Life Companion," and in recent years our smartphones have become exactly that. They keep us connected in numerous ways via voice, text, social sharing, location awareness, and even life event documentation. As mobile technology progresses forward, some hardware improvements hit a wall, and other areas need exploring. I can't predict anything in this industry, but I imagine you won't need anything beyond 1080p for your pocket device. Processors will always be shrinking in size yet producing more computations per watt. At some point, we'll look at our phones and say "I really don't need to replace this."
There's not much more I can say at this point. The Galaxy S 4 does everything, and does it pretty well. It even comes in a dustproof/waterproof version called the Galaxy S 4 Active. Both phones are available from AT&T for $199.99 w/2-yr agreement. AT&T has the exclusive on the Active model, but the regular Galaxy S 4 is also available for Verizon, T-Mobile, Sprint, and U.S. Cellular. If you like the hardware but want to ditch the software, Google is selling a GS4 in the Play Store that's running completely stock Android software for $649, unlocked and contract-free.