SLIFF honors Director Alexander Payne at Hi-Pointe Theatre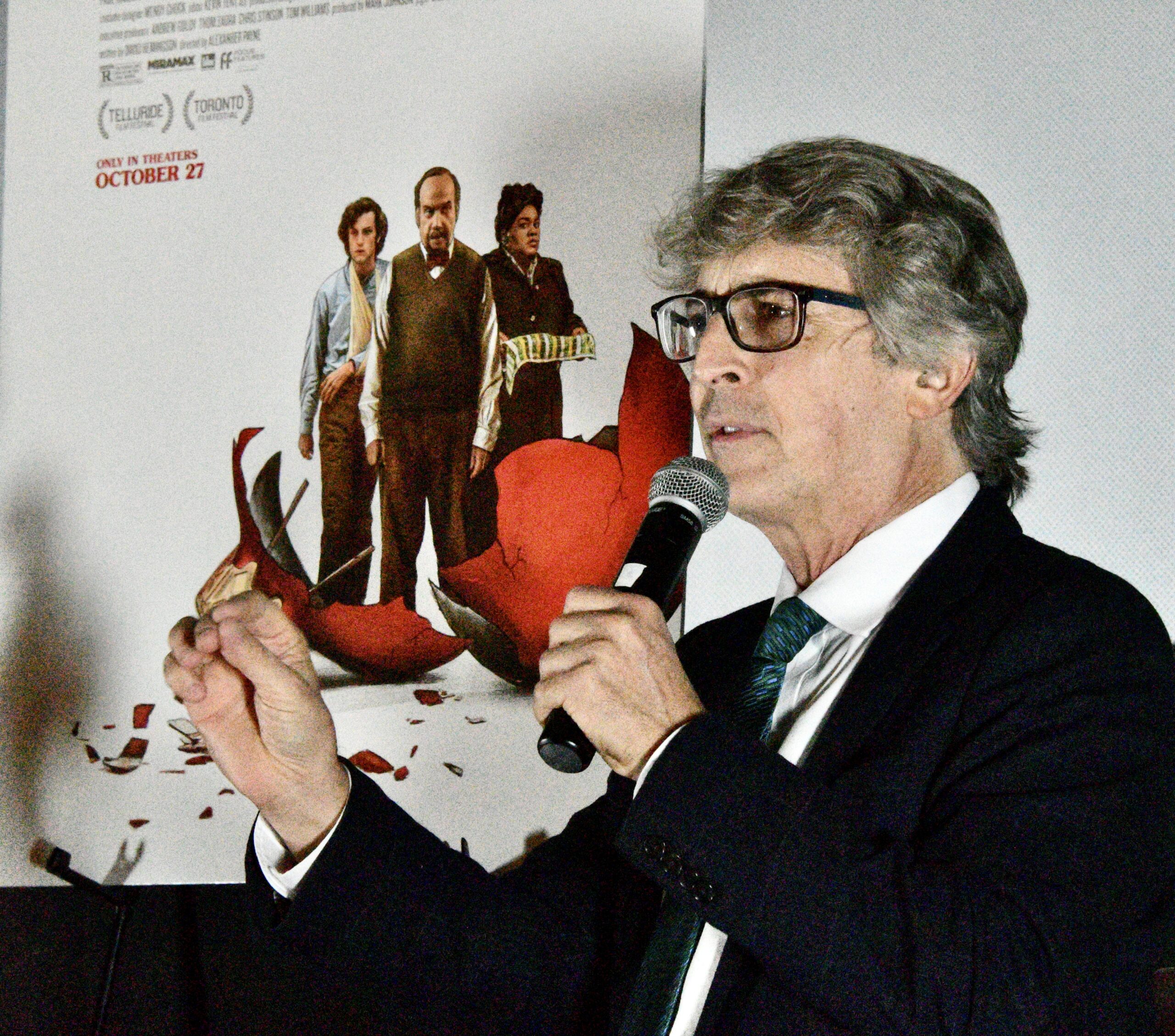 On Tuesday night, St. Louis International Film Festival (SLIFF) honored Alexander Payne, a luminary in American cinema, is a prominent film director, screenwriter, and producer celebrated for his illustrious career, including directorial gems such as "Sideways," "Election," and "Nebraska," each a testament to his mastery of the craft.
Payne, who was in attendance to receive the Lifetime Achievement Award, talk with former CSL Executive Director, Cliff Froehlich, and answer questions from the audience following a showing of his new film, The Holdovers.
Alexander Payne grew up in Omaha. He studied History and Spanish Literature at Stanford before earning an MFA in Film at UCLA.
Payne has made eight feature films — Citizen Ruth (1996), Election (1999), About Schmidt (2002), Sideways (2004), The Descendants (2011), Nebraska (2013), Downsizing (2017), and his newest, The Holdovers. Election co-starred the late Jessica Campbell, who grew up in Webster Groves. His films have been nominated for a total of 19 Oscars – including three times each for Best Picture and Best Director. He has won twice for Best Adapted Screenplay. Alexander is currently at work on a new volume of poetry. His first, Shadings and Shadowings, was published in 1991 and translated into 11 languages.
Payne's new film, The Holdovers, stars Paul Giamatti as cranky History teacher a prep school who is forced to remain on campus over the holidays with a student who has nowhere to go. The film is currently at 96% on Rotten Tomatoes.
"Perhaps like many of you, I fell in love with movies at the age of like 4 or 5," Payne told the audience. "I used to go to the art museum in Omaha and catch showings of old movies. In my teenage years, my friends and I were movie crazy."
Payne credited three key movies with inspiring him to become a director. Modern Times, Seven Samuri and Viridiana by Luis Bunuel.
While Payne experienced success at UCLA, it was a number of years before he was able to make his first feature film, Citizen Ruth.
"I call those my years of agony," Payne joked. "I was lucky enough to have a hit film out of film school and all the agents came courting. I thought I'd be directing my first feature in a year, but it took five."
Payne told stories of working with Harvey Weinstein on his first film, jokingly referring to him as Harvey Scissorhands because Weinstein was always trying to get his hands on films he financed. The director said the first film he had contractual rights to the final cut was About Schmidt.
In his film Election, Payne was credited with discovering the late Jessica Campbell, of St. Louis. Campbell passed away in 2020. He joked he is called 'The Finder,' as he also was credited with getting Chris Klein into the acting game. In The Holdovers, Payne once again has found a new acting talent in Dominic Sessa, one of the co-stars of the film. He talked about how he is able to discover young, talented actors.
"Obviously, it's instinct at the beginning and then repeated auditions," he said. "I like some essence and how he or she speaks, and also embodies the character. If they don't have much experience, you have to see if they are bulletproof."
The Holdovers director also talked about using his home state of Nebraska for the setting of some of his films.
"It's just the little, local, hilarious customs," Payne said. "You got this little corner to explore, and you know how funny and funky everybody is."
Payne joins a list that includes Oliver Stone, John Goodman, and Kevin Kline, among others, as those who have received the Lifetime Achievement Award from SLIFF. He will be on hand Wednesday evening for a screening of The Descendents at the Hi-Pointe.
Catch The Holdovers in theatres now!