"Shutter Island" Lands On Top With $40 Million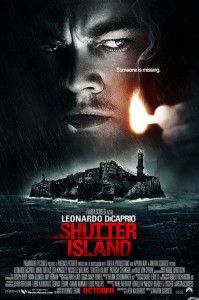 I will be one of the first to admit that I was someone who thought it was a mistake to move Shutter Island from October to February, but it seems to have paid off. The Martin Scorsese psychological thriller came on top on the weekend with an estimated $40.2 million. This marks Leonardo DiCaprio and Martin Scorsese's best debut ever. The film had an astounding $13,440 per theater average.  Previous bests were $30 million for DiCaprio in 2002's Catch Me If You Can and for Scorsese his $26 million dollar opening of 2006's The Departed was his previous best. The film looks like it has a great chance of being a profitable feature for the studio, costing around $75 million to make.
Coming in second place was last week's champ, Valentine's Day. The film had a huge drop, losing 69.5% of business. Last weeks totals were boosted by the holiday weekend, but even with the big drop the film is currently sitting at an estimated $87.8 million, not too bad for a film that cost somewhere around $50 million to produce. The gross is high enough that you can count on the New Years version talked about a couple weeks ago to be fast tracked for the end of the year.
James Cameron's megablockbuster Avatar continues to show just how strong it is in it's tenth weekend. The sci-fi action film dropped another 31% to bring in another $16 million dollar weekend.  The film has reached $687.8 billion domestically and $2.47 billion worldwide. The film should be the first film to ever break the $700 million mark domestically next week. Love or hate the film, it is fun to watch just to see how far it will go.
Percy Jackson & The Olympians: The Lightning Thief had industry standard drop of about 50% this weekend, dropping to fourth place it another $15.3 million bringing it's estimated total to  $58.8 million. The film which cost $95 million to make has a long way to go before it makes up its expenses. It doesn't look like it will be made into a sequel. Which brings up the question if Logan Lerman is in the running to be the new Peter Parker in the Spider-Man reboot.
The Wolfman like Valentine's Day had a steep drop losing 68.7% of business, taking in an estimated $9.8 million over the weekend bringing its total to $50.3 million. For a film that was rumored to cost upwards of $150 million it will most likely be considered a huge flop.
TW
LW
Title (click to view)
Studio
Weekend Gross
% Change
Theater Count / Change
Average
Total Gross
Budget*
Week #

1

N

Shutter Island
Par.
$40,200,000

–

2,991

–

$13,440

$40,200,000

$80

1

2

1

Valentine's Day
WB
$17,160,000

-69.5%

3,665

–

$4,682

$87,422,000

$52

2

3

4

Avatar
Fox
$16,100,000

-31.8%

2,581

-104

$6,238

$687,821,000

–

10

4

3

Percy Jackson & The Olympians: The Lightning Thief
Fox
$15,300,000

-51.0%

3,396

+40

$4,505

$58,760,000

$95

2

5

2

The Wolfman
Uni.
$9,846,000

-68.7%

3,223

+1

$3,055

$50,315,000

$150

2

6

5

Dear John
SGem
$7,300,000

-54.6%

3,062

+87

$2,384

$65,971,000

$25

3

7

6

Tooth Fairy
Fox
$4,500,000

-25.7%

2,523

-225

$1,784

$49,867,000

$48

5

8

9

Crazy Heart
FoxS
$3,025,000

-29.1%

1,089

+84

$2,778

$21,585,000

$7

10

9

7

From Paris with Love
LGF
$2,500,000

-54.5%

2,311

-411

$1,082

$21,200,000

$52

3

10

8

Edge of Darkness
WB
$2,210,000

-54.4%

2,118

-497

$1,043

$40,314,000

$80

4

11

11

The Book of Eli
WB
$1,845,000

-49.2%

1,455

-370

$1,268

$90,732,000

$80

6

12

10

When in Rome
BV
$1,747,000

-52.6%

1,627

-498

$1,074

$29,354,000

–

4