"Shrek The Musical" is Coming to St. Louis From September 11-26! Interview with "Fiona," Actress Haven Burton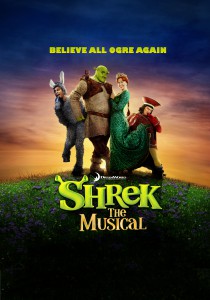 "Shrek The Musical" opens at the Fabulous Fox Theatre in St. Louis from September 11 to 26!
I had the chance to speak with actress Haven Burton, who plays Fiona on the national tour! Haven has been with the show from pretty much the beginning, including playing Gingy on Broadway.
To read our interview with "Shrek," actor Eric Petersen – Click Here.
Kevin: So how does it feel to be a part of something as big as SHREK has become over the last decade?
Haven: Well, first off, getting to play a princess for a living is a dream come true for most girls. My inner child is squealing with delight. As far as being a part as something as big as Shrek, it's exciting! I've worked with Dreamworks now for the past, about three years now, and they're the best company in the world to work for. They're fantastic. I've worked with them for this production of Shrek, and I did all the workshops in Seattle, Broadway – and now the National Tour. Apparently I'm happy, becayse I keep following them from town to town. It's awesome!
K: So Dreamworks is very involved in the project, making sure everything is perfect?
H: They are very hands on. Bill Damaschke, who is head of Dreamworks Theatrical and Dreamworks Animation, was our executive producer for a long time until just recently. He passed the torch onto our general manager, James Triner, who is our executive producer now. Even Jeffrey Katzenberg, who is an extremely busy man, is very hands on. He always wants to come and not only be a part of the acting process, but of the creative process. They come and they watch run after run, and then they give notes and do some changes. We're lucky to have people that care so much about this project, and I think that's what really distinguishes Shrek from a lot of the others.
It's not just putting out a great product, which is obviously at the forefront of their minds, but it's also the fact that they really love this and they are really excited. Not only do they want it to do well, but they want to be a part of the whole experience. I think that it's rare.
It's really fun to be a part of the show from the very beginning. From the first reading, all the way to it's run on Broadway, and now the National Tour. They've changed a lot of the stuff like the music, and the cast is completely different, and it's cool to see something like that. It's kind of like giving birth, and then sending it off to college.
K: How did you get involved with Shrek: The Musical from the very beginning?
H:
Well, it was just another audition in New York. They sent out the information to the agents, and everybody gets a breakdown of all the characters they are looking for. They submit you, and hopefully you get an appointment and you go in.
I had an appointment to be seen by Tara Rubin and the creatives for Shrek. I went in, and thought that I blew it! I left the audition, and cried all the way home. And then I didn't hear from my agent for a couple of weeks, and did a couple of other workshops. Then I found out kind of haphazardly that I had booked it, and was really excited. I thought that Shrek was a really great opportunity for a movie musical, because there are so many fairy-tale creatures, and journeys that each character takes. It seems so obvious to me that these characters should be singing. Especially with the writers, and how funny and irreverent that Shrek is. I thought it was a really great opportunity for movie-musicals to step up a little bit. To show something fun, and not take themselves too seriously.
I came in and did the workshop, and we didn't know who we were playing until we got to the first day of rehearsals. I literally walked in, and it was like Ana Gasteyer, Sutton Foster, Christian Borle. It was like tons of broadway and comedy headliners – and me. And then they said, "you will be playing Gingy – you're the Gingerbread Man." I was so excited. So I got to play the Gingerbread Man all the way through to Broadway, and didn't switch up roles until the tour.
K: Is the tour is the first time that you have been able to play the role of Fiona?
H: Yeah, I understudied Fiona on Broadway and had the opportunity to go on somewhere around thirty times. But it's not the same as owning the role.
K: The Gingerbread was one of the funniest characters in the movie that I remember.
H: Oh yeah, it was my favorite. And Gingy is still around, and is being played by Amy Garcia – who is an amazing puppeteer and incredible comedian. She's doing a fantastic job.
K: How close is SHREK The Musical to the movies?
H: It's really close to the first film. And then of course, I think that people will be pleasantly surprised to see a bunch of new material and new storylines. They go into the telling of the fairytale creatures, and who their characters are a little bit more. You get to see Shrek and Fiona as children, and dealing with their parents – which is new material that the first movie never really touched on. But overall, the arch of the characters and the characters are the same from the film. You know, Donkey, Shrek, Fiona, Lord Farquaad, the fairytale creatures and the dragon.
K: What is your favorite part of being in the national tour?
H:
One of my favorite parts if being in this national tour is getting to see the creative people be inspired to change a lot of material – not only in the writing and in the music – but also in the design of the show. We completely renovated the design of the dragon. We basically pulled it down, and started from scratch. There's a new song, some new character developments, and completely different puppets. The sets are just beautiful, and the dragon is also incorporated into the great escape out of the castle.
I think the dragon number is definitely my favorite part. It probably helps that my boyfriend is the head puppeteer, and does a wonderful job. The boys that are puppeteering are incredible. It's puppeteered by four guys. It's beautiful. She's thirty-two feet long. It's a Michael Curry design, who designed all of the puppets for the Lion King. She's got a lot of life to her – it's remarkable. she's the coolest puppet that I've ever seen.
K: How long does it take to prepare the cast for the show each performance? I'm guessing Shrek takes the longest to prepare.
H: Everyone is different. Some people show up a half-hour before half hour. I usually show up at half-hour, because my character doesn't show up for thirty to forty-five minutes into the show. So I have lots of extra time. You change into your costumes, and do your wig preps and make-up. It's different for everybody, but Shrek's make-up takes around an hour and a half.
K: Have you played the Fox Theatre in St. Louis before?
H: I've actually been to the Fox before. I might mess up the year, because I was on tour for two years. But I think it was Thanksgiving of 2000, with Rent. I was playing Mrs. Cohen on the tour, and I would go between Mrs. Cullen and Maureen on Broadway. If they needed a Maureen replacement for a couple of months they would put me under contract, and then I would go back to playing Mrs. Cohen. It was just whatever they needed at the time.
I did it for almost two years on the road, and just shy of two years on Broadway.
K: Is acting something that you have always wanted to do?
H: Yeah, of course. I mean, I don't really know how to do anything else, so thank God I'm getting work. But it's always been a dream, although I never really set my sights on Broadway. I never thought that it was anything that I would be able to achieve. I was like a rock singer. But Rent kind of opened that door, and was a really great learning experience for me. It let me expand my voice in different directions, and different genres. And since I was working in that, it allowed me to continue working and being able to support myself while getting to do what I love to do. Acting, and singing and dancing – I just didn't know that I would be able to do all of them at the same time. It's great.
K: How long do you tour, and what are your plans for afterwards?
H: It's kind of a hard thing to answer, because it really doesn't depend entirely on me. Our contracts are up next year, so we will see if they want to continue and resign us – which would be wonderful. You can save a lot of money on tour, so the goal is to get out and save as much as you can. Hopefully you can continue to work, or take some time off and have a bit of a family, and enjoy hanging out with other family members. My contract ends in Los Angeles, so I don't know where we'll go from there. Voice-over work is something that I've wanted to get into for a long time, so we'll see what kind of opportunities come up in Los Angeles, if any. My boyfriend and I both do this for a living, so we will probably make our way back to New York and start auditioning again, seeing what's going on. The usual.
K: Do you have any dream roles that you would love to do some day?
H: I like doing a lot of original work. I like inspiring writers to either keep material, or cut material, or write more material. I like the creative process. That's a hard question. A lot of the roles that I would like to land, I would probably have to wait a good twenty years for.
---
"Shrek The Musical" is playing from September 11 to 26 at the Fabulous Fox Theatre in St. Louis! For more information and to purchase tickets, visit fabulousfox.com or Metrotix.