Interview with "Shrek," Actor Eric Petersen – "Shrek The Musical" is Coming to St. Louis From September 11-26!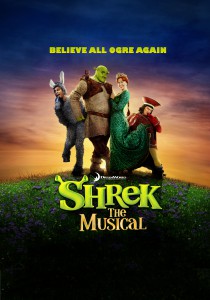 "Shrek The Musical" opens at the Fabulous Fox Theatre in St. Louis from September 11 to 26!
ERIC PETERSEN (Shrek). Broadway: Shrek The Musical (Shrek Standby/Papa Ogre/Straw Pig). Other credits include: first national tour of The 25th Annual Putnam County Spelling Bee (Barfee), many Theatreworks USA productions, readings of Zorba (with Antonio Banderas), Up Here, among numerous others. Regional: …Spelling Bee (North Shore/Barrington Stage), The Foreigner (Engeman Theatre), The Producers (Barn Theatre), Oliver! (Charleston Stage). TV: "Law & Order," "Law & Order: SVU," "As The World Turns," "Evan & Gareth Trying To Get Laid" and an upcoming NBC pilot with Jimmy Smits. Eric is a proud graduate of Bradley University and member of Actors' Equity. Thanks to God, BRS, the whole Shrek team, Mom, Dad, Kyle, Lisa and our new baby girl, Sophia.
Check out more at EricPetersenOnline.com.
To read our interview with "Fiona," actress Haven Burton – Click Here.
---
Kevin: First off – congratulations on the new addition to your family (Sophia Marie Petersen was born on Thursday, July 15.).
Eric: Thank you very much. I'm very excited. My daughter turns 7 weeks old tomorrow. It is our first, and it's been really great. I somehow manage to make it through with the very tiring job of being a father, and the very tiring job of being Shrek 8 times a week. We're making it work, so I'm not complaining.
K: How would you describe your experience as Shrek so far?
E:
It's so awesome! I got to play Shrek a few times on Broadway, when I was the understudy, and that was awesome. And now it is great to really feel like you own the part. I think that this production has a lot differences, and a lot of parts that we have tightened up to make it better. So it's really exciting to be a part of all of that, and a new production. It's a dream come true. As an actor, you just want to work first of all. And it's great to be in a role that let's you show off a lot of different layers of who you are as an actor, and as a singer. I really love playing the part.
K: Were you involved with the show from the very beginning?
E: Not from the very beginning, because I actually was in the first round of replacements on the Broadway company. So I actually came in about six months after they opened on Broadway. And then I was involved there for around six or seven months.
K: Were all of the songs new and written for the show?
E: Yes, it's all completely new music. Jeanine Tesori and David Lindsay-Abair who are the composer and writer, are two major heavyweights in the theatre world and totally respected. It's so great that they came together to take on this huge project, and it's completely new music that is so good. I love when people leave, and have no idea that it was going to be completely new music and love the songs. The only song from the movie is "I'm a Believer," which was Smashmouth in the movie. We sing that as kind of an encore after curtain call. But beside from that, it's completely new music.
K: How did you get to be a part of the show?
E:
I auditioned for the workshop about 2 years before the Broadway production. I had a couple of callbacks, and they casted a couple different people at the time. I knew the casting director Tara Rubin pretty well, and was working Summerstock in Michigan with my wife at the time when I got a call from my agent. Due to an actor taking some time off for health issues, they needed an immediate replacement for Papa Ogre and Straw Pig. So I flew to New York the next day for the audition, and I got it. I started about a week later, and I left my job and wife in Michigan while she finished up the summer there. I started with the Broadway company, and when the standby moved into the role of Shrek, then needed a new standby. I went on as Shrek a few times before we closed, and when we had auditions for this tour I went out for the role of Shrek and got it. It was just so exciting, and an honor to be trusted with such an important role in a smash franchise.
K: Has acting been a lifelong dream of yours?
E: I think that I found out fairly early on. I started doing theater in my freshman year of high school. Before that, I was always kind of a goofy little kid.I never did, like, theater or anything like that when I was younger. I found out that I had a little bit of an ability in it, and then I was actually planning on being a cartoonist or an animator. Then senior year of high school I was like, "well, maybe I'm kind of decent at this acting thing, I guess I'll go to school for that." I did, and did well in school, and moved to New York. And things have been working out ever since.
K: When this tour is over, will you move back to New York?
E:
My wife and daughter are going to be on the road with me for the next year or so, as we do the tour. After that we will move back to New York. My wife is an actress as well, so we will go back to the grind. We will keep auditioning, and finding new projects.
K: How does this show differ from others that you have acted in?
E: Obviously the make-up and the costumes are so vastly different than anything I've done. And again, I've done shows that are physically taxing, or are big shows where you sing a lot. But nothing has ever been this involved. There is make-up, and prosthetics all over my entire face, a forty pound costume. It's a massively huge undertaking for every single show. Mastering that, and getting all of the essential aspects of the show is probably the biggest challenge. It's more than I have ever had to deal with in any other show. I said to my wife, "whatever I do next – I don't care what show it is – I can guarantee you it won't be as hard as Shrek the Musical.
K: What is your favorite part of being Shrek?
E: I would say probably the journey of becoming Shrek. I know that might sound a little "actory," or "artsy-fartsy." As an actor, to get to play a role where you get to start at point A, and part B is something completely different, is so much fun. I'm probably more of a character man, than a leading man, so a lot of time we play the same part the whole time. To get to start something and completely transform into a new person as the character, is really awesome. And my favorite part.
---
"Shrek The Musical" is playing from September 11 to 26 at the Fabulous Fox Theatre in St. Louis! For more information and to purchase tickets, visit fabulousfox.com or Metrotix.