SHERLOCK HOLMES: A GAME OF SHADOWS Opens December 16! Enter to Win Passes to the St. Louis Advance Screening!
Enter for your chance to win a pass, good for two!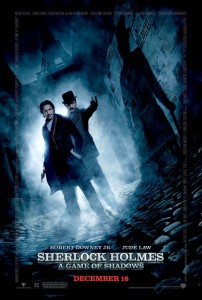 Sherlock Holmes has always been the smartest man in the room… until now. There is a new criminal mastermind at large – Professor Moriarty – and not only is he Holmes' intellectual equal, but his capacity for evil, coupled with a complete lack of conscience, may actually give him an advantage over the renowned detective.
Holmes' investigation into Moriarty's plot becomes ever more dangerous as it leads him and Watson out of London and across Europe, to France, Germany and finally to Switzerland.
But the cunning Moriarty is always one step ahead as he spins a web of death and destruction – all part of a greater plan that, if he succeeds, will change the course of history.
STARRING: Robert Downey Jr., Jude Law,Noomi Rapace, Stephen Fry, Jared Harris, Kelly Reilly, Eddie Marsan, Rachel McAdams
DIRECTED BY: Guy Ritchie
In order to enter the contest, become a fan of ReviewSTL on Facebook and share ReviewSTL.com with all your friends (click the "share" link on the bottom-left side of the page) – telling us why you can't wait to see the movie! Then like the post to complete your entry. NO PURCHASE NECESSARY. PLEASE REMEMBER TO READ THE RULES!
SCREENING IS MONDAY, DECEMBER 12 AT WEHRENBERG CHESTERFIELD GALAXY 14 CINE (7PM).
Good luck! We hope to see you at the movies!
SHERLOCK HOLMES: A GAME OF SHADOWS opens nationwide on December 16.