Shazam! Has Found a Writer
Shazam! the comic book property best known for it's superhero Captain Marvel and his alter ego Billy Batson has finally found a writer for it's film adaptation, writer Bill Birch.
From Variety:
---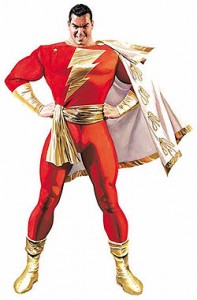 Warner Bros. has tapped scribe Bill Birch to reboot "Shazam!," the DC Comics' adaptation of the Captain Marvel story that's being developed as a potential franchise.
"Get Smart" director Peter Segal remains onboard to direct; he'll also produce with his Callahan Filmworks partner Michael Ewing. Geoff Johns will co-write and consult on the project.
Segal and Ewing began working on the film three years ago at New Line before it moved over to Warners. Pic centers on teenaged Billy Batson, who transforms into the superhero when he says the word "Shazam!" The studio is now looking to go back to the original DC Comics source material for inspiration.
Previous drafts have been penned by John August, William Goldman, Bryan Goluboff and the team of Joel Cohen and Alec Sokolow.
Birch is currently writing "One Finger Salute" for Warner Bros. with Andrew Lazar producing and Segal attached to direct.
He's repped by ICM and Anonymous Content.
---
I'm a huge comic book geek and I love the innocence of the character of Captain Marvel,  but essentially he is another version of Superman, only instead of alien biology he has magical imbued superpowers. DC would be best not to turn him into a dark character like they did with Superman in Superman Returns, but cater him more to pre-teens and teens, since the hero is really a young boy who says "Shazam" to turn into the hero. However, they are going to be walking a slippery slope with this one. They skew it too young they risk as coming off as corny.
Yet another project that time will only tell. DC really seems to be going the Marvel route and trying to get as many of their characters out there as possible right now. I'm not sure that all of them deserve to be on the screen, although having writer Geoff Johns involved with the project gives me a bit more hope.