Want To See Shaq vs. Albert Pujols Tonight? Win FREE Tickets to the Home Run Derby Here!
ReviewSTL is giving away 12 tickets to see Shaq vs. Pujols tonight at TR Hughes Ballbark! Enter today for your chance to win!

(note: not all tickets go to same winner; they will be won in groups of 2 and 4)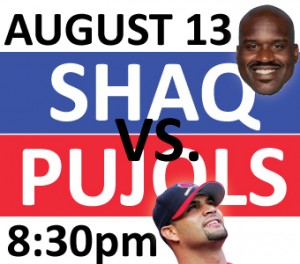 Shaquille O' Neal has challenged our very own baseball all-star Albert Pujols to a Home Run Derby! And Albert has accepted the challenge!
Shaquille O'Neal is taping a new TV show on ABC, "Shaq Vs," where he challenges other professional athletes to their sport. It should be a great time! Enter below to win a chance to be a part of the historic event! All you have to do is leave a comment below, with your favorite sport moment, and you will be entered into the drawing for tickets. WINNERS WILL BE E-MAILED AT NOON!
Good luck! We hope you can get out to the ballpark and checkout Shaq vs. Albert Pujols!
Thank you to Petropolis for donating 4 of the tickets!