Review of "Shaq vs. Pujols" Home Run Derby at the River City Rascals Ballpark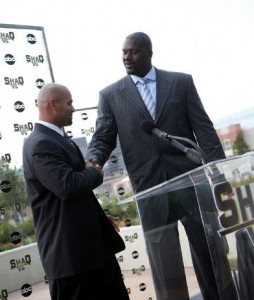 Over 7,000 people joined my wife, daughter and I to watch the taping of the new TV show – "Shaq Vs" last night. We were put to work when I arrived with the Tortoise from Petropolis around noon. My first job was to cover all advertisements around the park with vinyl; this included all umbrellas, signs, and anything else a local or national advertiser logo was on. By the time we were finished, the ball park looked ready to film for a TV show. A huge "Vs" sign was placed in the middle of the fields, where Shaq's home run fence was erected. I think the farthest distance for the fence was 240 feet at center field. All that was left to do was wait for the stars to arrive.
We were amongst a few lucky fans that had arrived early when Shaq arrived around 5:30. We all cheered for him as he filmed his first shot, walking into The River City Rascals ballpark from his supped up Cadillac Escalade. I think my wife's life finally became complete, when Shaq walked up to her said "hello." He then bent down, from his towering 7'1" stance, and gave my five-year-old daughter a high five. Shortly after his arrival, The Number Five El Hombre himself made his entrance – PUJOLS! He arrived in style with his son A.J., getting out of his white Lamborghini around 6:10p.m. so that he could perform the same "out of your car and into the park" shot for the show.
After the initial entrance shots, the two all-stars went back to the club house to prepare for the evening's main event – the Home Run Derby! At 8:30 we heard two helicopters flying overhead for areal shots. The announcer came on to the speaker system, and introduced Shaq officially for the first time as the crowd cheered. All of a sudden, you could hear "Ladies and Gentleman, the MVP himself Albert Pujols, led by his son A.J." At this point, you couldn't hear the helicopters over the roars of the 7,000 fans dressed in a sea of red Cardinals shirts. Shaq and Pujols started off with some practice swings, and reappeared shortly after for introductions again – this time for the ground-level television shots. And like that, the Home Run Derby was ready to begin!
The first of three innings of the evening started off, as Shaw was given 15 outs; Pujols was given 10. I will not tell you how many each of them hit — you will have to watch the show on ABS, September 1st. But I will divulge a few clues that will lead you in the right direction:
Pujols does hit home runs out of TR Hughes Ballpark.
A.J Pujols will be a Star one day.
For a Basketball Player, Shaq can hit!
Watch the show – it will be entertaining and a lot of fun – all the hard work paid off.
There are a lot of home runs hit, but also even more entertaining moments apart from the main contest
The reason I cannot give away a lot from the show is because Media was not allowed, and I do not want to jeopardize my relationship with the River City Rascals or ABC.
I would like to thank to Chris Franklin, Executive Vice President of the River City Rascals who organized the incredible event with his staff — and in ONLY TWO WEEKS! It truly was awesome! If you haven't had a chance this year, make sure to check out a River City Rascals game before the season is over. And try to see if you can spot the parts of the ballpark where Shaq and Pujols hit the Balls.
For more information about River City Rascals Baseball, visit www.rivercityrascals.com.