Seth Rogen "Can Die a Happy Man Now," After Co-Writing and Appearing in Simpsons Episode.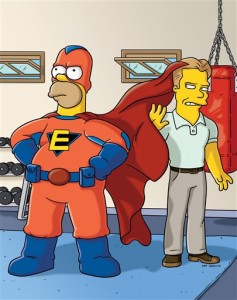 As if Seth Rogen didn't already have it made – starring in films like KNOCKED UP, PINEAPPLE EXPRESS, and the upcoming GREEN HORNET – he has fulfilled yet another life-long dream. Rogen co-wrote an episode of the Simpsons that will air tomorrow night, kicking off the 21st season of the classic television series.
Rogen is also voicing a character on the show. He lends his voice to Lyle McCarthy, a celebrity trainer that is whipping Homer into shape to play a superhero that Comic Book Guy creates called Everyman. The superhero is a satire on Hollywood. In an interview with the AP, Regen said, "we wanted to comment on how Hollywood generally ruins these movies. The whole joke is Homer is cast to play a guy who's an everyman and they try to make him into this physically fit guy."
Rogen compared writing for the iconic show to finding "the Holy Grail," and said "I can die a happy man now."
Watch Fox tomorrow (Sunday) at 7PM central time to catch the episode.