Seth MacFarlane Says "No Way" He Will Host Oscars Next Year
Seth MacFarlane may be Fox's cartoon golden boy with "Family Guy" and "The Cleveland Show," but his first time hosting the Oscars was met with mixed reviews.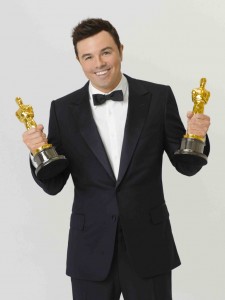 Check out Blake's thoughts during his live blog of the Oscars.
Vulture wrote an article titled Why Seth MacFarlane's Misogyny Matters, citing "MacFarlane's boob song, the needless sexualization of a little girl, and the relentless commentary about how women look reinforced" as reasons for his hosting failure. The New Yorker called MacFarlane's opening number We Saw Your Boobs "unattractive and sour."
Watch the full "We Saw Your Boobs" video below (press play to start):

On Twitter today, Seth MacFarlane was asked if he would host the Oscars again if he was asked. MacFarlane said, "No way.Lotta fun to have done it, though."
RT @crusephoto: @sethmacfarlaneWould you host the #Oscars again if asked? // No way.Lotta fun to have done it, though.

— Seth MacFarlane (@SethMacFarlane) February 26, 2013
What did you think of Seth MacFarlane's hosting? Who would you like to see instead next year?