Want a Chance to See THE TWILIGHT SAGA: ECLIPSE? Win a Pass to the St. Louis Advance Screening!
THE TWILIGHT SAGA: ECLIPSE Opens Nationwide June 30
Enter for your chance to win a pass, good for two!
Synopsis: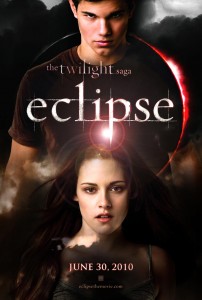 In ECLIPSE, Bella once again finds herself surrounded by danger as Seattle is ravaged by a string of mysterious killings and a malicious vampire continues her quest for revenge. In the midst of it all, she is forced to choose between her love for Edward and her friendship with Jacob — knowing that her decision has the potential to ignite the ageless struggle between vampire and werewolf. With her graduation quickly approaching, Bella is confronted with the most important decision of her life.
SCREENING IS MONDAY, JUNE 28.
In order to enter the contest, become a fan of ReviewSTL on Facebook . Then post "I want a free pass to see THE TWILIGHT SAGA: ECLIPSE from @ReviewSTL.com" on your Facebook status. NO PURCHASE NECESSARY. PLEASE REMEMBER TO READ THE RULES!
Good luck! We hope to see you at the movie. And don't forget – THE TWILIGHT SAGA: ECLIPSE opens nationwide on June 30!
Watch the trailer for THE TWILIGHT SAGA: ECLIPSE –
[hdplay id=27 width=595 height=375]