Sebastian Stan is Bucky in "The First Avenger: Captain America"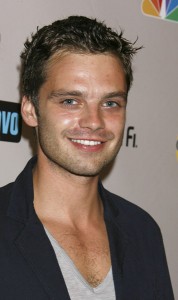 Chris Evans was recently confirmed by Marvel Studios to be playing Captain America. (Read about it here.) Now the studio is busy on casting the rest of the roles in the film. Attached to play the villain is the always great Hugo Weaving. (Read about it here.) There was one other major role left to cast, the role of Captain America's sidekick and best friend Bucky Barnes . Sebastian Stan, who has recently appeared on CW's Gossip Girl and NBC's short lived modern Bible tale Kings, has been signed on to play the role. He has been signed to a major contract, much like Chris Evans and Samuel L. Jackson, to appear in multiple Marvel films.
Bucky Barnes is an orphaned teenager who is a mascot to the Army, and sidekick to Captain America/Steve Rogers in the comic books. He was assumed dead with Captain America while trying to stop a rocket. Like Captain America he was kept frozen in the Arctic Circle, where he was eventually found the Soviets, who made him into "The Winter Soldier". He has since joined the good guys again, and has taken over the mantle of Captain America after Steve Rogers was assassinated.
I don't know enough about Stan to really pass any judgment. The few things I have seen him in he plays a jerk, so it doesn't fit real well with the character he is playing. Although, like the rest of the cast I'm taking the wait and see approach, and hope any of my preconceived notions can be washed away by the actual film. I guess only time will tell.
What do you think of this casting choice? Let us know in the comments.