New "A-Team" HD Trailer Featuring Bradley Cooper and Liam Neeson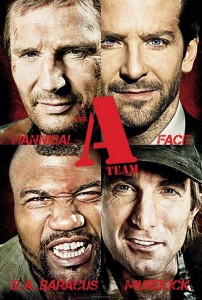 Alright! This is the trailer I've been waiting for. After a "OK" teaser trailer was released, (watch it here) I was a little disappointed. Although, this newest trailer looks awesome. Plenty of action, plenty of humor, and a little shirtless Bradley Cooper for the ladies. Do I think the film will be over the top? Hell yes, but that will be its charm. In fact if it isn't ridiculously over the top I'm going to be pretty damn disappointed.
This trailer was so action packed, that if it doesn't get people into theater seats, then I don't know what will.
Synopsis:
A group of Iraq War veterans looks to clear their name with the U.S. military, who suspect the four men of committing a crime for which they were framed.
Cast: Liam Neeson, Bradley Cooper, Quinton "Rampage" Jackson, Sharlto Copley, Jessica Biel
Director: Joe Carnahan
Genres: Action Thriller, Action
Release Date: June 11, 2010