New "Salt" HD Trailer Starring Angelina Jolie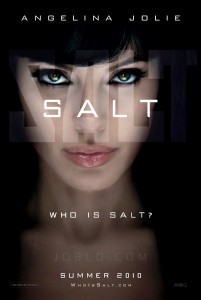 I can't believe that this was once a movie that had Tom Cruise in the lead role. I'm really glad they retooled it for a female lead, and that they hired on Jolie. Love her or hate her, she's pretty solid in pretty much everything she does. It looks like she is channeling her inner Jason Bourne here, and kicking some ass.  There is only one part of the trailer that makes me cringe; when she runs, jumps off the side of the wall, and throws a punch. It doesn't look like a punch that would send someone flying back.
The supporting cast also has me pretty excited, both Chiwetel Ejiofor and Liev Schrieber are solid supporting actors who are strong enough to carry their own films. This is shaping up to be a release I am really looking forward to.
Synopsis:
Angelina Jolie stars as a CIA operative on the run in the spy thriller Salt, a Columbia Pictures production from writer Kurt Wimmer (Equilibrium). Director Phillip Noyce helms the picture, which focuses on the plight of a government agent who's been wrongly accused of being a Russian assassin out to take down the U.S. president. Liev Schreiber and Chiwetel Ejiofor head up the rest of the cast. ~ Jeremy Wheeler, All Movie Guide
Cast: Angelina Jolie, Liev Schreiber, Chiwetel Ejiofor
Director: Phillip Noyce
Genres: Unglamorized Spy Film, Thriller
Release Date: July 23, 2010