Scott Pilgrim Vs The World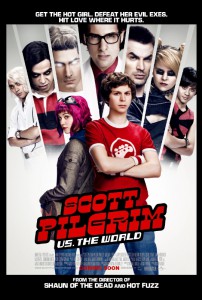 "You will either love it or hate."
I'm sure you've heard someone utter those exact words to you before, and never more has this been true than with Scott Pilgrim vs. the World. Uniquely tailored from the 8 and 16 bit generation of video games, with mashes of pop culture all around. Edgar Wright's latest film is one that might be hard to latch onto due to a generation gap.
Scott Pilgrim is a 22-year old (Rating: Awesome), in between jobs, living in Toronto.  Scott is a bit of a hipster, he plays pass in a band called Sex-Bob-Omb, and has a cool gay roommate, Wallace Wells.  Much to the chagrin of  his friends he has recently started dating high school student, Knives Chau, a Chinese Canadian, who worships the ground Scott walks on. Things become instantly complicated for Scott the first moment he lays eyes on Ramona Flowers.  Scott experiences love at first sight, and finds a way to date this girl with the elusive past.  Things become even more complicated after he learns the news that to date Ramona Flowers means he has to battle her seven evil exes.
The plot of Scott Pilgrim vs. the World is beyond ridiculous, and the charm is that it acknowledges it fully. The film fully commits to the story, and creates its own unique set of rules. The film is filled with an overlayed indie rock soundtrack, with numerous video game, and other pop culture references.  The film isn't even above satire. Case in point, one of the evil exes has superpowers because he is a vegan, "Being vegan makes you pretty much better than everyone else."
With its quick cuts, fast dialogue, and lightning fast visuals, the film is a kid with ADHD's dream. Not a single scene is left without a laugh or a unique visual quirk.  It might be a bit much for some to take, because it really is unlike anything that has previously been done. Wright toyed with this kind of visceral experience in previous films such as Shaun of the Dead and Hot Fuzz, but he takes it to a whole other extreme here.
The action is beyond incredible; fast motion fight choreography, framed by bright flashes, and stellar stunt work. If you've ever played any fighting video game, you'll feel right at home with the action in Scott Pilgrim vs. the World. Wright takes his cues from fight scenes in games like Street Fighter and Tekken, as well as flourishes from Japanese anime.
To top it all off the film boasts a great young cast of up and coming stars. Michael Cera continues his rise, and proves that he does actually have more than one character up his sleeve. I was continually impressed how believable he was as an action star. Cera's comedic timing really keeps the film moving, and proves that the young actor can be a solid lead. The one complaint I have was with the chemistry between him and co-star Mary Elizabeth Winstead, who plays Ramona Flowers. The two were cute, but never clicked quite as much as he does with co-stars Ellen Wong (Knives Chau) and Kieran Culkin (Wallace Wells).
There really is no weak link within the cast. Each of the evil exes serves up a distinct personality, and brings great gimmicks to the screen. Culkin impressed me the most by far, as he seemed to stretch the material farthest out of anyone in the cast.
I understand that Scott Pilgrim vs. the World might not be everyone's cup of tea, but I dare anyone not to at least be in awe of the visual prowess that the film possess. We rarely see truly original material anymore, and this film is just that: truly original. If you are looking for great action, hearty laughs, and a possible new franchise; Scott Pilgrim is it.
Grade: A+