SDCC 2013: IDW Announces Hellboy Artist Edidtion
IDW and Mike Mignola have reached an agreement to put the  Hellboy comics into its Artist's Edition line of books. Scheduled to be released next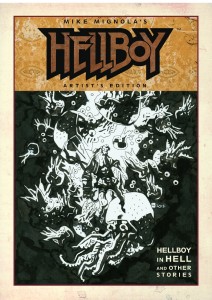 summer, Mike Mignola's Hellboy: Artist Edition will contain high-quality scans from Mignola's original art of the first five issues of his recent series Hellboy in Hell as well as the three early Hellboy stories published inside John Byrne's Next Men before the character got his own miniseries. In addition, IDW and Mignola have agreed to publish one of the greatest Hellboy stories ever, "The Corpse" in this impressive format.
In an interview with CBR, IDW Special Projects Editor Scott Dunbier said that this agreement was worked out directly between him and Mignola. Given the amount of art Mignola's developed over the years with Hellboy, Dunbier doesn't shy away from the possibility of doing more Hellboy in the Artist's Edition line.
Mike Mignola's Hellboy: Artist Edition, Summer 2014.