'Saints Row 4' Announcement Teaser Trailer – Back to Steelport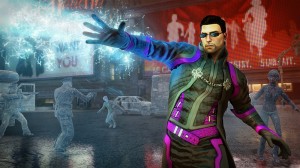 When THQ dissolved earlier this year, there were a lot of questions of which properties would get picked up in the ensuing chaos. Deep Silver, publisher of Dead Island, quickly accquired the rights in the THQ bankruptcy auction, ensuing that Saints Row 4 would be released.
Today we get our first teaser of the game. It's just a quick look, but looks to maintain the same over-the-top quirky sense of humor that the Saints Row franchise is known for. The game is said to take place shortly after the events of Saints Row: The Third, and was originally planned as another portion of the game, but was later developed for its own release.  The game appears to have a number of new features, including some pretty incredible super powers. It almost looks like Volition has added in elements similar to the Crackdown series. Having just played Saints Row: The Third, I can say I'm pretty excited to see a fourth installment.
Saints Row IV is set to be released on Windows, PS3, and Xbox360 on August 20, 2013.
Here is the synopsis of the game:
In Saints Row IV, the head honcho of the Saints has been elected to the Presidency of the United States. But the Saints are just getting started. Now the larger-than-life insanity of the Saints series gets a new twist with a catastrophic alien invasion, and the aliens have transported the Saints to a bizarro-Steelport simulation. Wield gargantuan superpowers and fight to free humanity from alien granddaddy Zinyak's mental grasp. Escape the simulation that's trapped the Saints crew, or die trying.

Saints Row IV lets players delve into an arsenal of alien weaponry and technology that will turn each Saint into an ultimate entity of destruction. Utilize out-of-this-world superpowers to fight all the way to the top. With intensified action and enhanced customization, players can use their newfound superpowers and leap over buildings, outrun the fastest sports cars, or send enemies flying with telekinesis in the greatest, most insane installment of Saints Row yet.