Ryan Reynolds and Scarlett Johansson Call it Quits
"After long and careful consideration on both our parts, we've decided to end our marriage," Reynolds' rep said in a statement. "We entered our relationship with love and it's with love and kindness we leave it."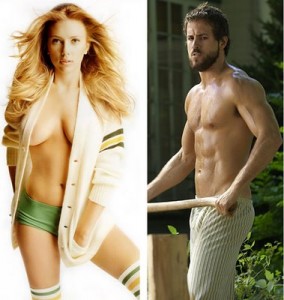 That statement explains absolutely nothing.  But it does mean that it is official.  Perhaps the sexiest couple in the world is no longer together after two years of marriage.  Details will slowly emerge, I'm sure, but they were one of Hollywood's lowest profile couples.  I guess this reverts the sexiest couple title back to Angelina and Brad.
Next up for People Magazine's Sexiest Man Alive is a full slate for the year 2011.  Reynolds will be thrust in the spotlight with Green Lantern hitting theaters next summer.  Reynolds is currently filming The Change-Up which will also hit theaters next year.
Johansson will also be busy with two films.  We Bought a Zoo will hit theaters next year while she will also be busy filming The Avengers.  Scarlett was recently named the GQ "Babe of the Year" for 2010.
While it may be sad that we see another marriage in Hollywood dissolve, I am sure there are plenty of people out there thrilled to see these two back on the market.  Men and women around the world, your hopes and dreams can once again live on until they are snatched away.
What do you think of the news? Let us know in the comments below.