Did You Know? – "Tron: Legacy"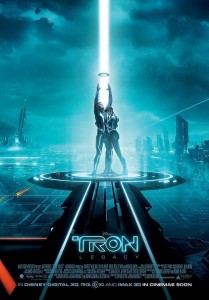 After months of a heavy onslaught of marketing, Tron: Legacy hits theaters this Friday 28 years after the original graced the big screen.  I recently checked out Tron on DVD for the first time, and I must admit, I was not impressed.  The idea and visuals are cool, but it is certainly dated and lacks an engaging story. 
But that is just my opinion.  There are plenty of fans that have been clamoring for this sequel for years.  Two things I certainly am looking forward to is the soundtrack by Daft Punk and just how visually stunning the film will look.  It is probably the first film since Avatar that I have been excited to see in 3-D.
To get you all pumped up for the new film, I give you a couple of fun facts regarding both Tron and Tron: Legacy.
Did you know?….
All the live action that occurred inside the computer was filmed in black and white, and colorized later with photographic and rotoscopic techniques for Tron.
Flynn's program is named "Clu". CLU is an old programming language.
Although Tron was an initial failure, the arcade videogame based on it proved to be a tremendous hit and actually out-grossed the film.
Shooting Tron: Legacy lasted only 64 days. Post-production, due to the heavy special effects, required 68 weeks.
The wardrobe budget for Tron: Legacy was $13 million. One custom suit alone for the racers cost $60,000.
Although the 2008 "TR2N" teaser trailer showed that Disney was seriously considering a sequel, the movie had not been "greenlit" at that time. According to director Joseph Kosinski and producer Sean Bailey,  the teaser served two purposes: to show Disney executives what a TRON sequel might look like (before committing to a feature budget), and to gauge fan interest. If the teaser had failed to generate sufficient fan "buzz", the movie wouldn't have been made. It has also been confirmed that, as the teaser was only a "concept" film, virtually none of the teaser footage will appear in the final film.
And here is that 2008 Comic Con footage in case you haven't seen it:
[hdplay id=225 width=595 height=375]