Ron Perlman Gives Details About "Conan", "At the Mountains of Madness", "Hellboy 3"
Who would have thought the man talked so much.  As we all know, Mr. Perlman is one of the busiest men in Hollywood despite not having the most recognizable name in the country.  He is constantly doing voice work for video games or animated tv shows as well as his show Sons of Anarchy on top of his work in films.  That's a lot.  He is currently out and about promoting his newest film Season of the Witch so obviously he is going to get some questions regarding his upcoming projects.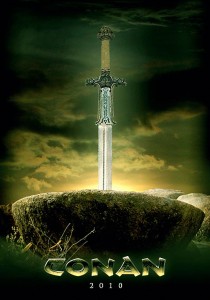 The first one down the line will be Conan which hits theaters in August.  The plot follows, "After his father is murdered and village destroyed, Conan ventures into an unforgiving world where he survives as a thief, pirate, and warrior. On his path of wanton adventure and women, Conan chances upon the warlord responsible for his tribe's destruction. As he tracks Khalar Zym, Conan battles monsters, Zym's henchmen, and Marique, a powerful witch."  So what will he be doing in the film.
"I play Conan's father.  There's big-time sword action. But I'm only in the movie for 10 minutes. I can't tell everything, but the first sequence is huge. It's epic. All I can tell you is that I work with the Conan who's 11 years old. And there's a jump cut to Conan the adult, and I'm no longer on the scene… I never worked with [Jason] Momoa, who's the adult Conan. I only worked with this kid [Leo Howard], who's a phenomenal actor. And he's like a North American champion of swords since he was 4 years old. He had a black belt [in martial arts] by the time he was 4. He's a swordsman and he's mind-boggling. He made me look like a piker."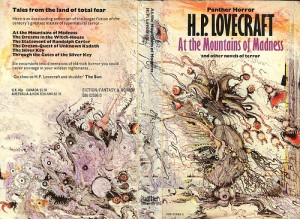 The next film that people are most curious about is Guillermo del Toro's next project At the Mountains of Madness.  Perlman is still waiting to see if he will officially be in the film.  He will have to wait to see if the shooting schedule fits in between him shooting Sons of Anarchy.  This is what he had to say about the film,
"The movie takes place in the North Pole, and so I'm on board as this sort of dog sled dude. I spend my entire life with these dogs. So I'm a rough guy, among all these scientists. I'm a contrast to the deeply intellectual world that's being explored. I live outside all the time, I live in the elements. I'm a no-bullshit kind of guy in a world of guys who just live in their heads. So it's a beautiful role to play, given that backdrop. I kick some butt I hope we get a chance to do it."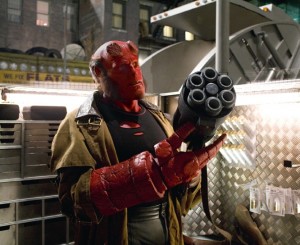 And finally the film I am most excited about seeing is Hellboy 3, but is there even going to be a Hellboy 3?  The second film certainly left a lot of questions out on the table.  Currently nothing is in the works, but Perlman is now open to the idea.  It's just a matter of when del Toro wants to do it. 
The only thing I can share with you is we have this demon who is a victim of this Oracle, which is not negotiable. He's been summoned to the Earth for the destruction of mankind, and that's non-negotiable. This whole notion that his nature, is the demon of destruction — against the way he's been nurtured by his father, John Hurt's character, to be kind and in the service of mankind. Those things are going to be in play in the third one. Then of course you have Liz pregnant with twins at the end of the second film. So you don't know what those two offspring are going to be? Are they going to be more human? Are they going to be more demon? Are they going to be a combination of the two? And how is that going to play out, in terms of Hellboy's destiny. Which I say again is non-negotiable. So that's the backdrop for the third film.  And everything will be resolved, all these open-ended questions will finally be resolved. I don't know how, he didn't give me those details. But that's the backdrop for it.
Which film are you most excited about, assuming they all come together?  Let us know in the comments below.