Roger Qbert Reviews "Easy A"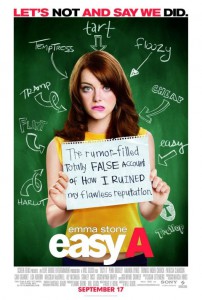 Olive (Emma Stone) is a high school student and a good girl.  So much so that her guidance counselor doesn't even know her name.  Why would she?  Olive is polite, gets good grades and stays out of trouble.  But all that comes crashing down around her when, in an effort to appease her best friend's (Alyson Michalka) need for smutty gossip, she "confesses" to losing her virginity with a college boy named George.  The story quickly winds its way through the school despite its complete lack of veracity (or perhaps because of it; this is, after all, high school).  Though initially appalled at her newfound – and undeserved – status as the school slut she quickly realizes that she enjoys the attention.  She even finds a way to use her knew found powers of promiscuity for good by using the rumor-mill to throw bullies off the trail of Brandon (Dan Byrd), a student who is getting picked on for being gay.
Stanley Tucci keeps his "this guy can do anything" streak alive as Olive's caring but goofy father.  And Patricia Clarkson, as her mother, is a willing co-conspirator.  Olive has the sort of concerned but hands-off parents that any teenager would trade their iPod for.  They trust their daughter enough to let her make a certain amount of mistakes but never feel absent from the proceedings.  It's precisely this parenting technique that allows the Olive's situation to humorously spiral out of control as more and more people ask for her help and, ironically, she can't bring herself to say no.  While she has created some very real problems for herself her home life is solid enough for us to know that she's never in any real danger which is vitally important to the farcical tone of the film.
The scripts, from first time screenwriter Bert V. Royal, is a wonder to behold; chock full of witty dialog, smart jokes, lowbrow slapstick and homages to the high-school films that came before it.  Director Will Gluck knows exactly when to go for the big laugh and when a joke is better served by throwing it away.  Additionally, it would appear that he has enough trust in his cast to let them improv when the moment is right.
However, most important is the performance of Emma Stone.  Easy A offers something rarely seen in Hollywood, a comedy with a female protagonist.  After having been featured in several high-profile comedies the last few years – Superbad, Zombieland and the underrated The House Bunny – Emma Stone (as Olive) has finally been deemed worthy of her own film and she knocks it out of the park.  There simply just cannot be enough said about the strength of her comic timing in this film.  It's not often that a woman is allowed to do the heavy lifting in a comedy but her time spent working with Judd Apatow, Bill Murray and Anna Faris (hey, her movies might not be great but it's rarely been her fault) has clearly paid off.  She strikes a perfect balance between sexy, smart and silly.  In ten years, when people try to pinpoint the moment that Emma Stone became a star, this is the film they will point too.
On a scale of 1 to 10, with 10 being Sixteen Candles and 1 being I Love You, Beth Cooper, Easy A gets a 9.