Roger Qbert Reviews "Diary of a Wimpy Kid"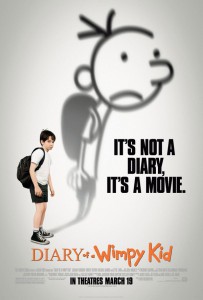 Based on a series of popular books by Jeff Kinney, Diary of a Wimpy Kid tells the story of Greg Heffley (Zachary Gordon), a young boy just entering the 6th Grade and self-described "wimpy kid". Greg is small for his age and desperately concerned with his popularity and physical safety as he ventures into the dog-eat-dog world of middle school. Of course, his school isn't as frightening of a place as he envisions in his mind. It's pretty much your standard middle class suburban school with a modicum of diversity. But to an undersized 10-year old it's a prison of positively Shawshankian proportions. His best friend is the portly Rowley (Robert Capron). He is even more socially awkward than Greg and a continuing embarrassment for them both. Rowley's immaturity is a constant source of consternation for Greg. He still listens to "kid's music" and invites Greg over to "play" instead of the more age-appropriate "hang out". While these might seem like trivial breaches, they can major be faux pas while attempting to navigate the byzantine social protocols of junior high.
Greg seeks popularity with the same single-minded intensity with which Ralphie once sought his Official Red Ryder Carbine-Action Two-Hundred-Shot Range Model Air Rifle with a Compass in the Stock. He bounces from activity to activity (wrestling, safety patrol, theater, etc.) all in an effort to cement his place in the pantheon of popularity. However, each extracurricular excursion ends with disaster and results in the exact opposite effect. Ironically, it's Rowley's complete and udder lack of concern for social convention which inadvertently leads to a sudden surge in his status; a turn of events which Greg cannot abide.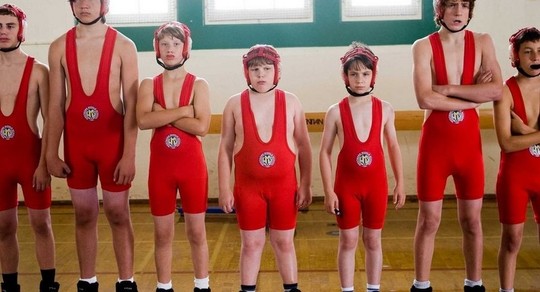 Diary of a Wimpy Kid is an unusual kids film in that its main character spends a good portion of the film being fairly unsympathetic. Greg repeatedly puts his friendship with Rowley second to his quest for acceptance. For fans of the book(s), the film is remarkably faithful even if it is somewhat miscast. While the characters in the book are represented in almost stick-figure like fashion, their real life counterparts bear little if any resemblance. But the film makes good use of mixed-media by deftly toggling between live-action and animated sequences more reminiscent of its source material. Gordon (as Greg) is affable enough but he has a somewhat difficult time maintaining his likability while doing unlikable things. Granted, that's something of the point of the film but the audience grows weary of his antics long before his friends do.
Though at times it plays like Superbad: The Early Years, the movie engenders much good will by taking childhood phobias seriously. Greg's desire for approval is a perfectly reasonable inclination even if his means for acquiring it are not. It's his actions not his motivation that the movie is mocking. And in the end, all the appropriate lessons are taught/learned. Though the humor at times veers into the scatological (and, for that matter, the urological) it does have a sweetness that belies its more jaded exterior.
On a scale of 1 to 10, with 10 being Holes and 1 being Shorts, Diary of a Wimpy Kid gets a 7.
[hdplay id=107 width=595 height=375]