Interview with Becky Gulsvig, starring as Elle Woods in "Legally Blonde The Musical" at the Fox Theatre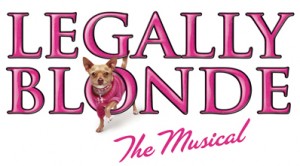 "Legally Blonde The Musical" is coming to the Fabulous Fox Theatre April 8-11 for a limited six-show engagement. I had the pleasure of speaking with Becky Gulsvig, who stars as Elle Woods in the show.
BECKY GULSVIG (Elle Woods) is tickled pink to be here! Broadway: Legally Blonde The Musical original cast (Elle u/s), Hairspray (Amber Von Tussle). Nat'l Tour: Peter Pan (Wendy). Regional includes: Grease (Patty Simcox), …Forum (Philia), Lawyers, Lovers And Lunatics (Eve), Baby Case (Studio Sister/Ginger Rogers). TV: "All My Children", MTV's "Legally Blonde The Musical". Check out Becky's website at www.beckygulsvig.com.
---
Kevin: I've heard a ton of great things about the show, and it seems like an incredible role to land – playing Elle Woods in "Legally Blonde The Musical." How long have you been in theatre before reaching this point?
Becky: Well, I've been working professionally in theatre for ten years. I moved to New York ten years ago this summer, and I've been very fortunate. My first job was a national tour – I played Wendy in Peter Pan, and then I did a bunch of regional gigs. I worked on a cruise ship for a while; I did two days on a soap opera, and a commercial. I sort of dabbled here and there. I made my Broadway debut in Hairspray in 2004. I was in that for two years.
Kevin: You had a pretty big part in Hairspray. With that being your first role on Broadway, what did that feel like?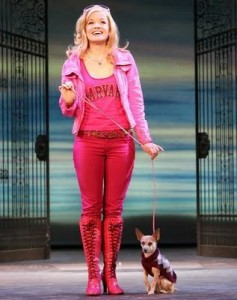 Becky: It was great! I actually started out in the ensemble, and I had two understudy roles. I did that for a year. Then I ended up taking over the role of Amber, and ended up playing it for a year. So it was really cool, learning how to be an understudy, because that's a big part of Broadway. And then I was able to take over a role that I enjoyed so much, in a show that I loved so much. It was really, really exciting. Especially since it was my first Broadway show. It definitely holds a special place in my heart.
When I was involved in that, I also became involved in Legally Blonde. So it sort of overlapped a bit. I did the workshop in the spring of 2006. And I've been involved in Legally Blonde since. It's been a really awesome ride.
Kevin: You mentioned you moved to New York 10 years ago. Did you decide to just take the leap to move out there to pursue a career in Broadway?
Becky: Yes. Basically that is exactly what I did. I knew that I needed to be there if I was wanting to do it. You don't really book Broadway shows from Minnesota.
Kevin: So it's like moving to LA to be a movie star; you've got to be where it's at.
Becky: Exactly.
Kevin: That's great. So you said that your first job was the national tour of Peter Pan. That must be a fun show to be in. What is it closest to? The book, the cartoon, the movies…?
Becky: Well, it's based on the book. It's the book, and the play… I would say it's all mixed together. I would say that it's the least bit like Disney movie, because the songs are completely different. It's a wonderful story. I feel fortunate that it was my first job, because it was just such a lovely thing to be a part of. I got to play Wendy, so I got to fly – which was amazing of course! Who doesn't want to fly every night? It was really great.
Kevin: That sounds like a great role. So how did you end up landing the role in Hairspray in 2004?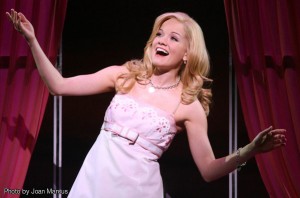 Becky: There was actually about a four year gap between booking Hairspray and Peter Pan. The two weren't totally related, but it was actually someone who was my company manager on Peter Pan who ended up working for the office that was running Hairspray.
He got me an audition when they were casting the national tour. It was sort of a last minute thing; they had bumped the girl that was playing Amber, and her mom – Velma. The von Tussles had been bumped from the tour to the Broadway cast. But the tour hadn't started yet, so they needed new von Tussels.
So I ended up going in on that audition, and not getting it. That was my first audition for Hairspray. So I was sort of in their file. I went in around five times, for just a bunch of different tracks. I sang a bunch of different material. It was the first time that I actually understood that sometimes it is just about the right timing. They were literally just waiting for the right spot for me. They had a lot of different girls, and when the right thing opened up they called me. I had auditioned so many times that they literally called and said, "are you available for this, are you available for that?" And it worked out that I could come into Broadway. That was within a year.
I auditioned about five different times, and I ended up getting it. It was an interesting lesson in auditioning. Sometimes it's just not right because there is no space for you. Not because you didn't do a good job. Sometimes you just have to wait your turn, so-to-speak. I was really glad that a spot opened up, and I was able to fill it. It was really thrilling, and I felt like I earned it after all of those auditions.
Kevin: Tell me about the show you are in now, "Legally Blonde: The Musical." Can you give me the elevator pitch?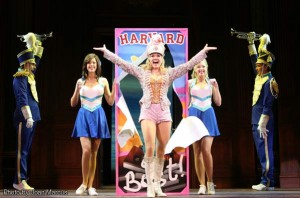 Becky: The story is based on the book, that was made into the movie. Most people have seen the movie. It's quite similar to the movie, but not exactly like it. But it centers around Elle Woods, who you meet at the beginning of the show. And she's pink, and fabulous, and lives in California in her sparkly, perfect world. She's about to get engaged, and she's going on this fancy dinner, but she ends up getting dumped instead. She is told that she's not serious enough. Her boyfriend Warner is going to Harvard, and says she's not serious enough for that. So she says, "wait a minute – I'll go to Harvard." So of course the show is based on her journey through Harvard, where she conquers law school. And ultimately conquers herself.
Elle learns to be more than just her fabulous hair and shoes, and outfits. She realizes that she can actually use her brain to go even further, and still look fabulous. It's a really great story, because its fun, it's silly, it's funny. You really laugh a lot. But the reason that you do is because you actually feel for these characters. It has a lot of heart, and there are a lot of great messages. It's all about staying true to yourself, and following your dreams, and not underestimating yourself. Not letting other people underestimate you. So it's a real package deal. It's a really great show.
Kevin: Well, I've heard a lot of really great things. The show started in 2007, is that right?
Becky: Yes, we opened in 2007 on Broadway.
Kevin: In only a few short years on Broadway, it's getting a lot of really great reviews. People are having a lot of fun seeing it. You mentioned that it was pretty similar to the movie. How close does it compare?
Becky: It's quite similar to the movie. You know, when you put anything on stage you have to tweak it just to make it stageable. You hear a little bit more from Paulette, Elle's hairdresser friend. The Elle and Emmett relationship – the guy she meets at Harvard. There's a little more to that. In the movie it is kind of skimmed across, and then they're magically together. So you see a little more of that development. The sorority girls, there's actually a Greek chorus that keeps reappearing throughout the show. Sort of in Elle's head, they keep helping her through Harvard. That's sort of a fun element that's not in the movie. It sort of brings more of that girly spirit to it.
Kevin: In 2007, you were the understudy for Elle while you were in the ensemble. How hard is it for you to rehearse for your own part, and at the same time being an understudy? Do you find it a lot more difficult?
Becky: Yes, it is. Your mind definitely has to work that way. You have to have the understudy mind, and that is why it was so nice in Hairspray to learn how to understudy. Your brain turns into a file cabinet, and you have to store all of this information and not freak out when you have to do multiple roles in one week. There actually was a week when I went on four all four different tracks at once. So it was good, I have that sort of brain. But not everybody does. It's a useful skill, and you don't always think about singing and dancing, but also having to know more than one part. It makes you more valuable, because in Broadway you need to know more than one just because of the nature of long running shows. It's definitely tricky, and a lot to handle at first. But once it's up and running it's nice. You sort of go, "Ok I'm this person today."
Kevin: How long do you start rehearsing for a show like this?
Becky: We rehearsed for four weeks in New York. Then we had a couple weeks in Providence, Rhode Island where we opened. Then we were on the road. It was quite quick, because the show had already been made. When we were on Broadway it was very different because we were still changing things, and tweaking things. And there's a lot more rehearsing involved. But it was definitely quicker putting out the tour.
Kevin: What is your favorite part about playing Elle in the show?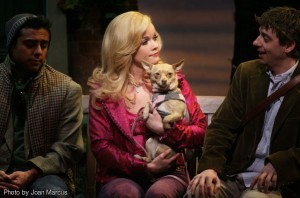 Becky: I think it's really cool how people come to the show already knowing and loving this character, because people love the movie. I don't think in the four years I've been involved in "Legally Blonde" that I've ever met anyone that hated the movie. Everybody loves it, and for different reasons. Some people because it's funny, some people really related to Elle Woods. But ultimately, everyone really enjoys the movie. So they come to the show with smiles already on their faces. They literally wear their pink, and they are so jazzed. From little girls in their little dresses, to the 40-year-old birthday party with all their boas on. Everyone comes and is ready to have a girly, fun night. It's really great, and we can provide that for them. It's an escape, but it's also a really good story. It's just really cool because you don't always affect people in that way. That's what theatre is about. And especially having been involved with this show from the beginning, and to be able to bring this show around the country. People that can't afford to come to New York are able to come to the show because we are in their home town, or nearby. It's really neat to see how that works. To know that just three years ago we were on Broadway, and now someone here in Salt Lake has been waiting for us to come. And now they're able to see the show, and having a great time. It's just really, really fun.
Kevin: Do you see yourself at all, when connecting with the character of Elle?
Becky: I definitely do. I don't think I could play the part if I didn't at all. There's definitely a part of her that I don't relate to. The clothes, or the high heels, or the attitude. Because I didn't grow up in California, and I don't know what it's like to feel that way. I grew up in Minnesota, where we had really hard winters. It's a different vibe to life. As far as her spirit, I can really relate to that. I can relate to the working hard, to being underestimated and having to prove yourself. I mean that's what this business is all about. You are constantly having to prove yourself. Constantly having to tell yourself, "no… You're good enough… try harder and do your best." And that's what ultimately this story is all about. It's really not about the clothes and the shoes, and being California fabulous. It's about Elle's spirit, that she really conquers in the end and becomes her best self. That's why people like it. You can put cute, pretty things on stage. But if there's no substance, what's the point? And that is the point of the story. That you've got to go a little deeper, and that's why it does so well.
Kevin: I saw video of you performing "So Much Better" at the Tony Awards last year. That was awesome. How did that come to be?
Becky: It was amazing. The producers came and talked to me, and told me that it was going to happen. It all happened pretty fast. It's not anything that would have ever, ever entered my mind. It was the first time that a show that was not currently on Broadway were performing on the Tonys. It was totally out of left field. I was so thrilled, so bewildered and excited. It all happened within about a month, that it was decided it was happening, and getting everything together. They got a bunch of the New York girls to come and do the backup with me, because the tour was still going on. It was amazing! So cool! I'm not someone who really gets nervous, but I was definitely nervous. It was one of those things where I was so proud when it was finally done, and I was so relieved and happy. It was the first time that I have ever really done anything like that. And also just to have people back home – literally my phone was full of text messages within like two minutes. My family across the country had been able to see me. It was amazing, because I have literally never had anything like that happen before.
---
THE FIRST NATIONAL TOUR OF LEGALLY BLONDE THE MUSICAL returns to the Fabulous Fox Theatre April 8-11 for a limited six-show engagement. Tickets are available at the Fox Theatre box office, all MetroTix outlets, online at www.metrotix.com or by phone at 314/534-1111. Orders for groups of 20 or more may be placed by calling 314-535-2900.