Rodgers + Hammerstein's CINDERELLA Comes to Life at the Fox Theatre (Jan 20 – Feb 1)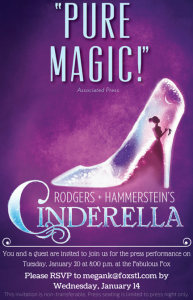 Originally written for the 1957 television broadcast starring Julie Andrews, Rodgers + Hammerstein's Cinderella finally made it's Broadway debut in 2013. With a new book by Douglas Carter Beane, the classic tale gets some new updates – but still captures the magic of the story we know and love. The show is now playing at the Fabulous Fox Theatre in St. Louis through February 1.
Returning from her leading role on Broadway is Paige Faure as Ella, with the look and cadence that would have you thinking she really is Cinderella in real life. Although some details have changed, the story is still close to the one we know and love. Ella lives with her wicked stepmother (Beth Glover) and stepsisters: Charlotte (Aymee Garcia) and Gabrielle (Kaitlyn Davidson) – although the latter is much nicer to Ella than we've grown accustomed to. Right at the start, Ella has a meet-cute with Prince Topher (Andy Jones) as he rides through town. It is there we are also introduced to her friends Jean-Michel (David Andino), a zany revolutionary, and Marie (Kecia Lewis) – a crazy old woman who we later learn has more up her sleeve than meets the eye.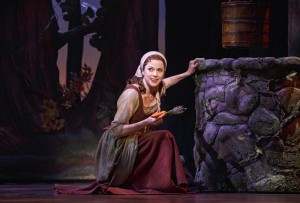 Topher's adviser Lord Chancellor Sebastian (Blake Hammond) convinces the prince that it is time to marry – and what better way to find a bride than to throw a magnificent ball? It's all fairy godmothers and magical transformations from then on, as the classic tale comes to life.
The show consists of many of the musical numbers from the original 1957 production, as well as some additional songs from the Rodgers + Hammerstein catalog – cut from shows like South Pacific, Me and Juliet. The number "There's Music in You" was added from the 1997 television version that starred Brandy, which actually came from the 1957 film Main Street to Broadway – where Rodgers and Hammerstein can be seen performing it. CINDERELLA is full of great music and performances, sure to have audiences mesmerized when combined with the direction of Mark Brokaw (The Lyons, After Miss Julie, The Constant Wife, Reckless, Cry-Baby) and choreography of Josh Rhodes (Company, The Film, Three Generations at the Kennedy Center, Sondheim: the Birthday Concert).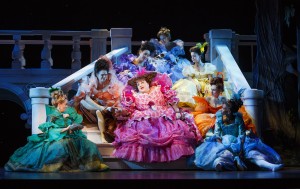 The show was nominated for 9 Tony Awards in 2013, winning for Best Costume Design (William Ivey Long). This comes as no surprise as the costumes are absolutely brilliant, full of the kind of life and color that makes it hard not to smile when you see them. The scenes at the ball are especially memorizing, full of dance and song, and breathtaking designs.
What would the story of Cinderella be without the magical transformations that Ella undergoes at the hands of her fair godmother? One of the most impressive and fun to watch parts of the show is how seamlessly these enchanting  quick-changes take place. The first couple times you can't help but to be in awe, as Ella goes from her cinder-covered plain clothes to a magnificent ball gown. A pumpkin becomes an elegant carriage, animals are turned into attendants – and the rest is history. Even when you are watching for these transformations, and you know they are coming, it's still hard to catch exactly how they do it. But one thing is for certain – it truly is magical.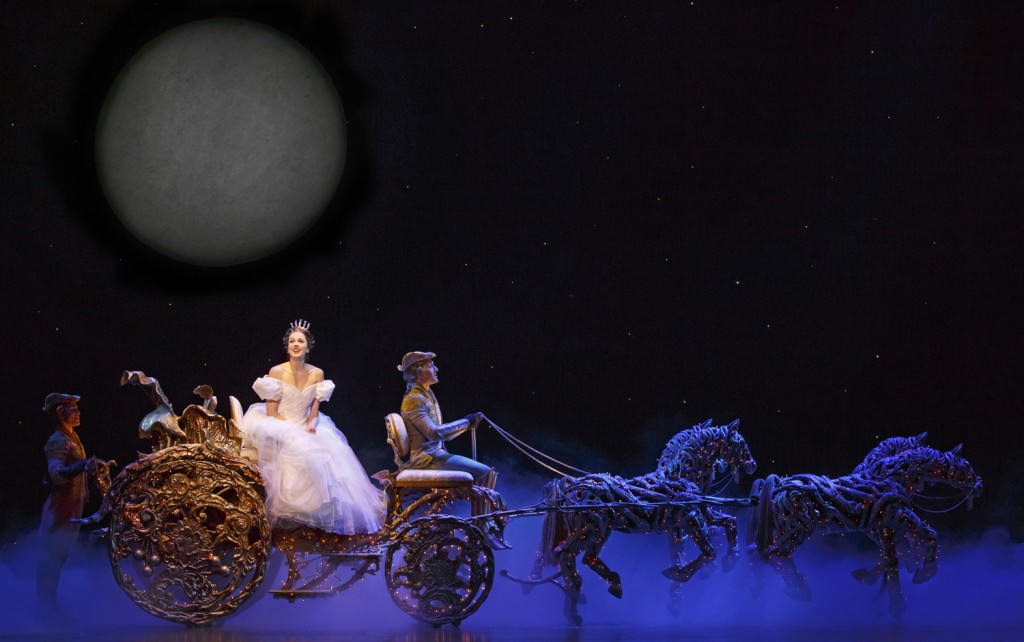 Audiences young and old can enjoy the classic tale, with plenty of sights and sounds for everyone. Wonderful performances and timeless music make the show one that should be seen before it turns into a pumpkin and rolls on to the next town.