January 27, 2015
/ by
admin
Enter for your chance to receive a pass for two to a special advance screening!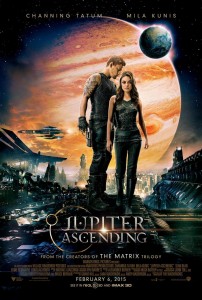 Jupiter Jones (Mila Kunis) was born under a night sky, with signs predicting that she was destined for great things. Now grown, Jupiter dreams of the stars but wakes up to the cold reality of a job cleaning other people's houses and an endless run of bad breaks. Only when Caine (Channing Tatum), a genetically engineered ex-military hunter, arrives on Earth to track her down does Jupiter begin to glimpse the fate that has been waiting for her all along—her genetic signature marks her as next in line for an extraordinary inheritance that could alter the balance of the cosmos.
Cast: Channing Tatum, Mila Kunis, Sean Bean, Eddie Redmayne, Douglas Booth
Director: Andy Wachowski, Lana Wachowski
In order to enter the contest, e-mail us and tell us why you can't wait to see the movie!
No purchase necessary. Void where restricted or prohibited by law. At the screening seating is not guaranteed and is available on a first-come, first-served basis. Refer to screening pass for further restrictions. Screening pass winners will be drawn at random and notified via email. Limit one (admit-two) pass per person. Must be age 13 or over to enter.
Screening will take place Feb. 2 at Des Peres
JUPITER ASCENDING‏ Opens February 6