River City Casino Grand Opening on Thursday, March 4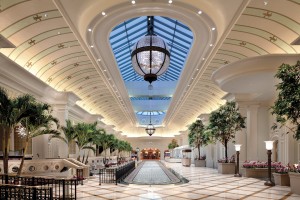 I walked into River City Casino not knowing what to expect. I was greeted with a 1904 theme, with Fleur-de-Lis covering the ceiling in the grand central entryway leading to the chandelier covered casino floor. Immediately I was transported to old Las Vegas.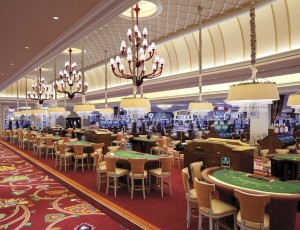 River City Casino is the second casino for Pinnacle Entertainment in St. Louis. Located 2 miles off of Interstate 55 in South County, it is nothing like Pinnacle's first venture, Lumiere. River City has an old Vegas bright and over the top vibe to it. Along with this old school look, comes the comfort of the 21st century. Guests will find adjustable chairs for exceptional comfort as well as larger aisles for easier access to every part of the gaming floor. In addition to this, patrons can look forward to "smoke curtains," which emit a constant stream of air that quickly pulls smoke away from table game players and dealers. The casino floor itself is 90,000 square feet, featuring 2000 slot machines and approximately 55 table games. The table games consist of Blackjack, Baccarat, Roulette, Let It Ride, Three-Card Poker, Four-Card Poker, Ultimate Texas Hold 'em, and Pai Gow Poker.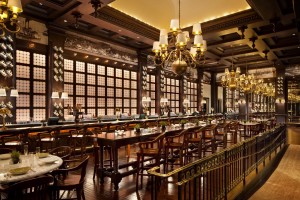 If gambling isn't your cup of tea, stop in to try one of the 5 eateries located inside River City. Included in this is Jeff Ruby's Steakhouse, which was rated higher than any steakhouse in both Chicago and New York by the Zagat Survey. If a burger is more your style, there is the Burger Brothers, serving the "Handmade Burger Brothers Blend," and finally there is the Great Food Exposition Buffet with enough variety to satisfy any appetite. Lewy Nine's Cafe is a casual diner for a quick bite, and the 1904 Beerhouse is the resident tavern with 100 beers available by the bottle and another 32 on tap. Barcentral and Judy's Velvet Lounge are the nightlife additions to the area. All in all, there is something for everyone to enjoy here.
River City Casino will open to the public on March 4, 2010 at 2pm. For more information, visit their official website at www.rivercity.com.
---
Fun Facts About River City Casino
River City's executive chefs spent 2 ½ weeks tasting 25 varieties/grinds of beef, 25 different French fries, 11 bun/rolls, 10 pickle varieties and 6 cheddar cheeses to create the perfect Burger Brothers burger.
A total of 240,600 chips in all denominations were ordered for River City's 55 table games.
The globe chandeliers at BarCentral and Judy's Velvet Lounge each feature 1,892 individually hand-strung crystal balls.
The Grand Court is covered by a soaring 42-foot-high skylight graced by two eye-popping 25-foot-high custom crystal beaded chandeliers.
River City's 1904 Brewhouse Ale was exclusively produced for the 1904 Beerhouse by the brewmasters at Anheuser-Busch.
The façade of Jeff Ruby's Steakhouse is reminiscent of Judy Garland's family home in the classic film, Meet Me in St. Louis.
Other exterior architectural tributes include the Palace of Electricity from the Louisiana Purchase Exposition, and the historic Lemp Brewery of St. Louis.
It took 1.5 million gallons of water to float the River City Casino barge within its concrete basin.
There are 1,185 sheets of construction drawings for the River City Casino project.
River City's dazzling rooftop sign is 75' wide x 24' high and weighs 20,000 lbs. Each letter is 11' tall.
Approximately 200 authentic German beer steins adorn the walls of the 1904 Beerhouse.
Seventy-two ornamental lightpoles line the River City Casino Boulevard from South Broadway to the casino site.
The wine list at Jeff Ruby's Steakhouse features more than 500 different labels from around the world.
The portrait of King Louis IX in Lewy Nine's Café is a custom-commissioned piece for River City Casino by artist Roark Gourley.
River City Casino players can earn and redeem mychoiceSM dollars for hotel rooms, dining, shopping and nightlife at both of River City's sister properties, Lumière Place and the President Casino.
The photographic images that surround The Great Food Exposition dining room are scans from original glass negatives acquired from the Missouri Historical Museum, St. Louis, all depicting scenes from the 1904 Worlds Fair. The murals in the 1904 Beerhouse are authentic historic photographs of life on the St. Louis Waterfront.
Directions to River City Casino
River City Casino
777 River City Casino Boulevard
St. Louis, MO 63125
From Southbound 1-55:
Exit Germania Ave., 202B. Turn left at end of the ramp onto Eastbound Germania. Turn Right onto Alabama Ave and cross over the River des Peres. On the South side of the River des Peres, Alabama becomes Lemay Ferry Road. Turn Left at the first signal onto River City Casino Blvd, and follow River City Casino Blvd east to the casino.
From Northbound 1-55:
Exit Carondelet Blvd (this exit will become River City Casino Blvd), 202A. Turn Right at the end of the ramp onto Eastbound Carondelet Blvd. Carondelet becomes River City Casino Blvd at Lemay Ferry Road. Follow River City Casino Blvd east to the Casino.