American Idol Recap, Top 10 Guys Sing While Crystal Bowersox in Hospital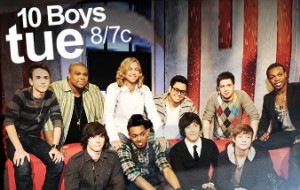 Tonight on America Idol a last minute change meant that the top 10 guys would take the place of the ladies, who were supposed to sing tonight. One of the top 10 gals, Crystal Bowersox was rushed to the hospital earlier today.
Here are the songs that the guys chose to sing:
Michael Lynche – "It's a Man's Man's Man's World," by James Brown.
John Park – "Gravity,"by John Mayer.
Casey James – "I Don't Want To Be," by Gavin DeGraw.
Alex Lambert – "Everybody Knows," by John Legend
Todrick Hall – "What's Love Got to Do With It?,"by Tina Turner.
Jermaine Sellers – "What's Going On," by Marvin Gaye.
Andrew Garcia – James Morrison's ballad "You Give Me Something."
Aaron Kelly – "My Girl,"by The Temptations.
Tim Urban – "Come On Get Higher" by Matt Nathanson.
Lee Dewyze – "Lips of an Angel," by Hinder.
Tomorrow night, the top 10 ladies will be back to perform.
What did you think of tonight's performances? Did the guys pull it off, or will the ladies blow them out of the water tomorrow?  Leave a comment below!