RIP Paul Walker: The "Fast and Furious" Star's Top 5 Best Movies
When word began to spread on Saturday night that actor Paul Walker had passed away, one phrase I continued to hear throughout the bar I was sitting in was, "The guy from Fast and Furious."
Yes, Walker was a mainstay in the popular film franchise, and was actually in the midst of filming the 7th installment of the Fast and Furious at the time of his death. However, the actor had appeared and starred in dozens of other films throughout his acting career. Here is a list of Walker's top 5 movies outside the Fast and Furious franchise.
5. Eight Below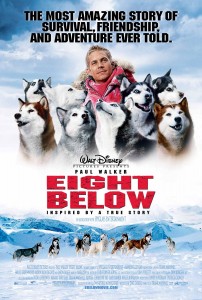 I love dogs, so I was a sucker for this film.
This Disney movie from 2006, tells the story of a man and his dogs. While in Antarctica, a scientist is separated from his 8 beloved sled dogs.
Yes, the film is more about the dogs than Walker, but it is a family-friendly, and a times tear jerking film.
Synopsis: An adventure about loyalty and the bonds of friendship set in the extreme wilderness of Antarctica. The film tells the story of a scientific expedition who is forced to leave behind their beloved sled dogs due to an accident and perilous weather conditions. During the harsh winter the dogs must struggle for survival alone in the intense frozen wilderness for over 6 months.
4. Varsity Blues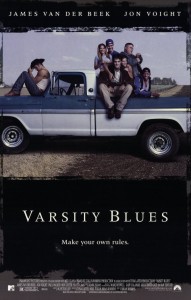 I remember seeing this movie when I was in high school and thinking how hilarious it was.
Walker's character of the star quarterback is rather forgettable when you throw in a whip cream bikini and a stripping teacher, but the movie was popular among teenagers in the early 2000s.
The film also features James Van Der Beek, Scott Caan, and Jon Voight. The soundtrack to the film was pretty damn good as well.
Synopsis: James Van Der Beek (Dawson's Creek) leads the action in this exciting, funny coming-of-age story about a small-town high schooler confronting the pressures and temptations of gridiron glory. At first, backup quarterback Jonathan "Mox" Moxom (Van Der Beek) is nowhere close to being a football star. He's perfectly content to stay on the bench and out of the win-at-all-cost strategies of coach Bud Kilmer (Jon Voight in a powerful performance). But when the starting quarterback is injured, Mox is in the game… and in direct conflict with his hotheaded coach and girlfriend. Soon everyone in Mox's football-crazed community will realize there's not just a new star quarterback in town, there's a new kind of hero.
3. She's All That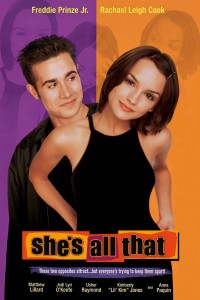 While Walker has just a minor role in the film, this movie put Rachael Leigh Cook on the map.
Oh yes, it also starred Freddie Prinze Jr., for better or worse. Walker's character was a douchebag looking to bang the prom queen, but he did a solid job with it.
Overall, it was a very popular movie with teenage girls.
Synopsis: An irresistible cast of Hollywood's young faces star in this fun, sexy comedy hit about the power of attraction and the pressures of popularity! Stung when his bombshell girlfriend abruptly dumps him for a TV celebrity, big man on campus Zack Siler (Freddie Prinze Jr., SCOOBY-DOO, BOYS AND GIRLS, DOWN TO YOU) wagers with a classmate he can quickly turn any girl — even the school's biggest geek, Laney Boggs (Rachel Leigh Cook, TEXAS RANGERS, JOSIE AND THE PUSSYCATS) — into the prom queen! He wasn't, however, betting on falling in love! After an amazing makeover, Laney is transformed from nobody to knockout … but when she learns of Zack's deception, it could ruin any chance he had with his newfound dream girl! With a hip, modern soundtrack and a hilarious story that audiences loved, this great comedy is all that … and more!
2. Joy Ride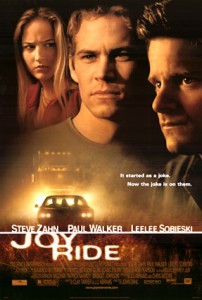 One of my favorite Paul Walker films of all time.
This movie was a fresh, invigorating thriller starring Walker, Steve Zahn and Leelee Sobieski. It's a tale about the dangers of playing on the CB Radio with truckers. There are several legitimately scary parts in the film.
Joy Ride was one of the rare creepy and action packed films of 2001.
Synopsis: Lewis and Fuller are two brothers travelling across America by car. In order to pass the time, they use the CB radio to play a joke on a trucker named Rusty Nail, convincing him that Lewis is a woman called Candy Cane and arranging a rendezvous in a motel room. But when the trucker realises what has happened, he kills the innocent occupant of the motel room, kidnaps the room-mate of Lewis' friend Venna, and comes after the teenagers in a psychotic fit of rage.
1. Running Scared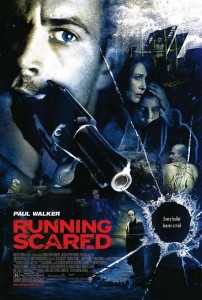 This ranks as one of my favorite movies of all-time.
Walker stars in this Tarantino-esque action packed, violent ride. This 2006 urban fairy tale follows Walker, who is caught between trying to save a young boy and fulfill his duties to his mafia chronies. It's gritty, loud, in your face non-stop violence may not be everyone's cup of tea.
The film was one of the most profane film's of 2006, and a career defining performance from Walker, resulting in a 2- hour thrill ride. It's over the top, it's ridiculous, and it's good.
Synopsis: Paul Walker ("The Fast and the Furious") stars in the fast-paced crime drama "Running Scared" from critically acclaimed director Wayne Kramer ("The Cooler"). Walker plays a low-level mobster who, in order to save his family, must recover a gun used in a mob hit before it's found by his bosses or the cops.