Review: WWE Monday Night Raw (12/2)
The latest installment of WWE Raw was another snoozer. Try as they might, the WWE cannot overcome poor writing and trying to rebrand, repackage and resell matches from 2009 that fans' have seen umpteen times before. It's a losing battle that the WWE is fighting. I don't see it improving until the part-time stars return for the Royal Rumble in January.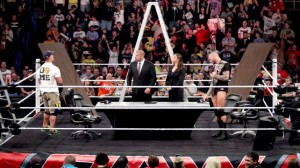 The announcement of title vs title with Randy Orton taking on John Cena at Tables, Ladders, and Chairs on Dec. 15, seemed to be a good thing for business. The problem is, if the unification of the belts is not on the line, then what's the point? This just seems like a worthless match without unifying the titles.
Onto The Authority, and the reaction, or lack there of, they are receiving from the crowd. It's clear that WWE fans are sick and tired of Triple H, Stephanie McMahnon and Kane. This has been one of the worst WWE storylines of the year. Kane's character is just plain stupid and boring. There is no point to The Authority anymore. It's basically filler for a 3 hour, Monday night show.
The rest of the show tried adding to the undercard of the TLC pay per view, but like everything else on the show, they seem rushed and carelessly put together.
One of the lone bright spots was the segment that Bray Wyatt cut. I mean, if Wyatt's character is going to continue to work then he needs to have a bit more clarity to his promo's. He is too vague with his current promo's revolving around Daniel Bryan. So, now he wants Bryan to join his group? I'm not sure what this is about. Sounds kind of ridiculous, but it will keep me watching to see what happens.
CM Punk's interaction with The Shield backstage was  quite effective way to promote the handicapped match at TLC. Just when it looked like The Shield would be gone and break up, they have seemed to put aside their disagreements and look stronger than ever. This could be a very interesting match at TLC.
WIth just one more week to promote TLC, the WWE needs to step up their game. The Slammy's are next week, meaning we may get some surprise guests and, cross your fingers, some exciting matches! The way things have looked on Raw lately, maybe WWE writers need a reminder that the last pay per view of the year is less than two weeks away. That way, they can pull their heads out of their asses and work on a solid product for the first time in months.
Photos © WWE.