Ridley Scott's "Robin Hood" is out on Blu-Ray and DVD! Enter to win a FREE copy!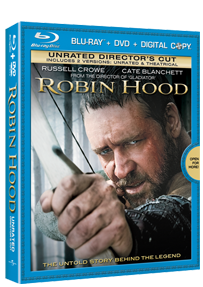 Academy Award winner Russell Crowe and visionary Director Ridley Scott (Gladiator) reunite for the untold story of the man behind the legend. In an age of oppression and shameless tyranny, an outlaw becomes the unlikely hero that saves a nation and inspires generations to fight for freedom. In this thrilling action adventure, "Russell Crowe and Ridley Scott are at their most entertaining since Gladiator" (Dan Jolin, Empire UK). Also starring Academy Award winner Cate Blanchett.
DVD and Blu-ray™ Includes Unrated Director's Cut & Theatrical Versions of the Movie
Two-disc special edition DVD
Bonus Features Include:
Includes Digital Copy of the Film for a Limted Time
(expires 9/30/11)
Deleted Scenes with Introduction & Commentary by Editor Pietro Scalia
Rise and Rise Again: Making Ridley Scott's Robin Hood
Ballad, Legend & Myth: Pre-production
The More the Merrier: Production
No Quarter Given: Post-production
The Art of Nottingham: Watch the theatrical version with behind-the-scenes footage, hand-drawn "Ridleygrams" and filmmaker interviews
Single-disc DVD Also Available
Blu-ray Combo Pack Includes: Blu-ray + DVD + Digital Copy
Bonus Features Include:
Director's Notebook: A seamlessly-branched multimedia presentation focusing on the director's vision, taking us into Ridley Scott's unique process. Includes

Behind-The-Scenes Footage
Scott's Hand-Drawn "Ridleygrams"
Interviews with both Himself and his Trusted Inner Circle of Collaborators.

Digital Copy of the Film for a Limited Time Only (expires 9/30/11)
pocket BLU™: Enhance your Blu-ray™ experience with a mobile app for an iPhone™, iPod Touch™, Smartphones (Blackberry® or Nokia®) or Android™

Advanced Remote Control: Navigate through menus, playback and BD-Live functions with ease using your mobile device as a sleek, elegant new way to operate your Blu-ray player
Pop-Up Keyboard: Enter data into the Blu-ray player with this easy and intuitive on screen keyboard
Mobile-To-Go: Add exclusive bonus features to your device to enjoy anywhere, anytime there's a Wi-Fi network
In order to enter the contest, become a fan of ReviewSTL on Facebook and suggest ReviewSTL.com to all your friends (click the "suggest to friends" link on the left side of the page). Then post a comment on the ReviewSTL fan page telling us why you want to win a copy of Robin Hood on DVD! NO PURCHASE NECESSARY. PLEASE REMEMBER TO READ THE RULES!