Review: WWE Payback 2014
WWE Payback was just what the doctor ordered for the WWE: an entertaining pay per view.
It's just a shame that the company has done a lousy job of promoting the last two pay per view's. Both have featured some great wrestling and wonderful story telling. Sunday's event kicked off with Cesaro vs. Sheamus. Paul Heyman shut the crowd up with their CM Punk chants right off the bat, saying that he was over at the United Center watching the Blackhawks.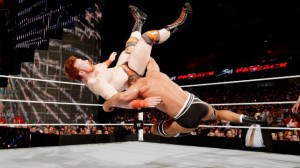 He isn't the best manager in the business for nothing folks. Both men worked a stiff match, which was welcomed by the fans in attendance, as well as myself at home. There were several near falls, as both men took some hard bumps. I really thought Cesaro would win this match, and it looked like he had it as he went for the Neutralizer. Sheamus surprised everyone as he countered the move with a small package to retain the title. It was a great opening match. These two are nowhere near done with each other. I could see atleast another pay per view battle between Cesaro and Sheamus.
The next match up was the Rhodes Brothers and Rybaxel. Besides the Diva's match, this may have been the weakest match of the night, but it still told a compelling story. Rybaxel got the win, but the main story happened after the match. Cody left Goldust alone in the ring, telling him he needed to find a better partner. And the split of the Rhodes Brothers begins. I look for them two to battle at Summerslam.
Rusev and Big E were next. Let me say that I felt this would be a snoozer, but damn was I wrong. Now, the flag wave off was really stupid and lame, but this isn't Oscar winning story telling here folks. Nonetheless, for two big men, these two guys went at it. Big E hit Rusev with a spear through the ropes that was one of the highlights of the night. Big E continues to impress me. Rusev came out on top, getting Big E in the camel clutch. All in all, a fun match, and a really good big men match. I hope we get to see these two fight again on Raw.
With Daniel Bryan being injured, the WWE had to find some way to get him on the show, so why not have Stephanie McMahon wanting him to give up his titles since he can't fight for a few months. It was a really great segment, which again, told a great story. Basically, this ended with Bri Bella quitting the company and giving Steph a wicked smack. Steph ran out of the ring and back down the aisle in embarrassment. This will undoubtedly lead to a Bri vs Steph match, which I am all for. Anytime a McMahon can get in the ring, it's a good thing for business.
Rob Van Dam and Bad News Barrett were next for the Intercontinental Title. There was no way RVD was winning this match. BNB is way over right now and the company needs to keep Barrett hot. Again, a great wrestling match. I was happy to see BNB win clean.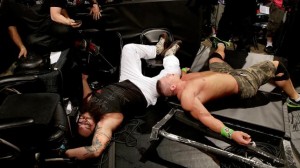 The match of the night came courtesy of Bray Wyatt and John Cena. That's right, John Cena delivered the match of the night! It was a brutal, physical masterpiece. My only complaint is the wrong guy won. Cena won the match and it did both men no good in any way. Cena's, character will not be helped by this, as fans are sick and tired of his schtick. Wyatt losing did his character no good. I honestly don't know what will happen to his character from here. I think Bray Wyatt is the best character the WWE has right now. A pay per view loss to Cena like this could really damage his heat. There were a couple spots in the match that were just epic. Cena picked up the steel steps, which aren't really steel, yet painful to get hit with, and tossed them out of the ring into Wyatt's face. I've honestly never seen anything like that before. Wyatt also dove back first onto Cena who was laying on the floor. I can't imagine how bad 300 pounds would hurt when it landed on top of Cena. This was just a great match. It's going to be mentioned at the end of the year when top matches are discussed, it was that good. The ending was great, but I just feel Cena shoudln't have won. Tossing Bray into the wooden box and then pushing another stage prop onto the box to bury him was pretty cool on Cena's part. I just feel Cena winning was a waste, but that's a whole rant within itself.
The Diva's match was next. That's all I will say about that complete piece of trash match.
Onto the main event, The Shield vs Evolution. Yes, we'd seen it before, but damn, it never gets old. The Shield got the win, eliminating all three members of Evolution. There were also several great spots, one being Seth Rollins diving off the top of the screen atop of the stage, onto the members of Evolution. Batista was the first to go out, as Roman Reigns hit him with a spear. Hopefully, this is the last we see of Batista for a bit, as he is off to do press for his upcoming film Guardians of the Galaxy. Randy Orton was the second to be eliminated, as he hit an RKO on Rollins, but Dean Ambrose was there to nail him with a chair and then hit him with a Dirty Deeds for the pin. That left Triple H alone against all three members of the Shield. Trips did get a sledgehammer shot in on Ambrose. As he was getting ready to lay out Reigns, Rollins hit Trips with a flying knee which seemed to come out of nowhere. Reigns followed with a spear and the pin. Reigns took a beating in this match. At one point, Evolution had his laid out in the ring and took turns beating him with kin-do sticks. He had horrible looking welts and spots of blood on his back. Overall the match was very physical, just as fans expected it to be. Everyone participating had moments where they looked great, even Batista. In the end, the right team won. Where will The Shield go from here?
Payback was probably one of the most weakly promoted pay per views I can ever remember. I nearly forgot it was on, but overall it was pretty damn good. The WWE is really upping their game over the last few months. There have been some pretty solid Raw's, watchable Smackdown's, two stellar pay per views, and highly entertaining NXT events. The pay per views and NXT make the WWE Network a bargain right now. While a lot has been made over WWE's money woes of late, the company will have nothing to worry about if this streak continues.
WWE Payback gets a B.
Photos © WWE.