Review: "Unknown" Starring Liam Neeson, Diane Kruger, January Jones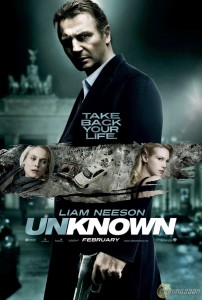 In "Unknown," Liam Neeson stars in a role that would have you believe you're watching the next "Taken." Unfortunately, that is not the case in this story of amnesia and mistaken identity. Luckily an intriguing story keeps things moving along, and there is just enough action to keep things interesting.
Dr. Martin Harris (Liam Neeson) is traveling to Berlin with his wife Liz (January Jones) to speak about his research at a biotechnology summit. When he arrives at his hotel, he realizes that he has forgotten his briefcase back at the airport. Without hesitating, he leaves Liz at the check-in desk of the Hotel Adlon and rushes off in a cab to recover his property. Unfortunately for the doctor, a car accident occur while en route – sending his cab over the side of a bridge. Luckily the driver (Diane Kruger) was able to rescue him, just before mysteriously fleeing from the scene. After waking up in a hospital four days later, he can barely remember who he is and why he is in Germany. And to make things worse, when he finally finds his wife and colleagues back at the hotel, they appear not to know either.
The premise for the film is an interesting one. We clearly see that the main character is who he says he is in the beginning. We see him traveling with his wife, and going through airport security as Dr. Martin Harris. So when we see Neeson's character reunite with his wife for the first time after the accident, and she is there with another man that claims to be her husband – the intrigue really starts to set in. The film also keeps you guessing as to who the bad guy actually is, and wondering if Neeson's Dr. Harris is actually who he believes himself to be.
For those who are expecting to see "Taken: Part 2," this film is not quite going to cut it. So you are better off expecting a different film when you go to the theater. "Taken," the 2008 sleeper hit which also starred Neeson, was directed by French filmmaker Pierre Morel. Morel is best known for directing the action-packed "District B13," which is a must see if you haven't already. With that being said, "Taken" was a different kind of film. That, and Neeson's character in that film knows exactly who he is (a badass). In "Unknown," Neeson's character is confused and trying to figure out who he is. And rightfully so. Basically, don't expect him to be a secret agent in this one.
One of the biggest problems that I have getting past is how unbelievable the whole thing actually is. Like most films that revolve around the main characters being tracked down and narrowly escaping deaths by even the best assassins and secret agents – this one is no exception to the rule. Martin Harris can barely remember who he is, yet when it comes to being tracked by trained assassins, he is left relatively unscathed. It is just one of those huge, 300 pound gorillas in the theater that you have to get passed in order to enjoy the movie.
Neeson is incredibly likable on-screen, and does well in the leading role. He has already proven himself as an action star, so this role is a cake-walk for him. It is still hard to hear him say "I'm an American" throughout the film, with his Irish accent bleeding through, but easily forgiven. Diane Kruger is great by his side, as she helps him find his way around Berlin. January Jones plays Elizabeth Harris, and does a pretty convincing job as someone who doesn't know her own husband. The interaction between her and Neeson is actually quite good, as she swears that she has never seen him before. Frank Langella appears close to the end of the film as Dr. Harris' oldest friend, but the role is easily overshadowed by Bruno Ganz. The Swiss actor plays an ex-Stasi officer who helps Dr. Harris figure out what's happening. Ganz adds a certain levity to the situation which is refreshing.
In the end, "Unknown" is an interesting story that will keep most people guessing right up until the end. Although at times things may seem a little unbelievable, it is a fun movie that keeps things moving along at a pretty quick pace. With a good cast, and a unique story, it is a popcorn flick that is worth seeing on the big screen. Just don't expect it to be "Taken 2."
"Unknown" is a B-