Many film-goers will recognize the name Martin McDonagh as the writer / director of In Bruges (2008) and Seven Psychopaths (2012). What they might not realize is that McDonagh is an accomplished playwright, responsible for several critically acclaimed plays – including the Laurence Olivier Award-winning play The Lieutenant of Inishmore. This weekend, theatre patrons in St. Louis can see his work in Theatre Macabre's first production at The Kranzberg Arts Center.
Set in Ireland during the early '90s, the show is a black comedy about two men, a cat, and the cat's owner – Mad Padraic (Charlie Barron). Davey (Mark Saunders) finds a dead cat on the road and rushes it into the house of Donny (Chuck Brinkley), who he thinks to be the owner. After a hilarious conversation about the circumstances surrounding the feline's demise, Donny makes it known that the cat isn't actually his – but rather his son's. And not only did the cat belong to "Mad Padraic" – it was his only friend for fifteen years. This sends the two into a fit of panic, after which Donny calls his son to let him know his cat – Wee Thomas – is "poorly." This causes the INLA soldier to go into a mental breakdown of sorts, stopping his work mid-torture, and leaving to catch the first boat back home.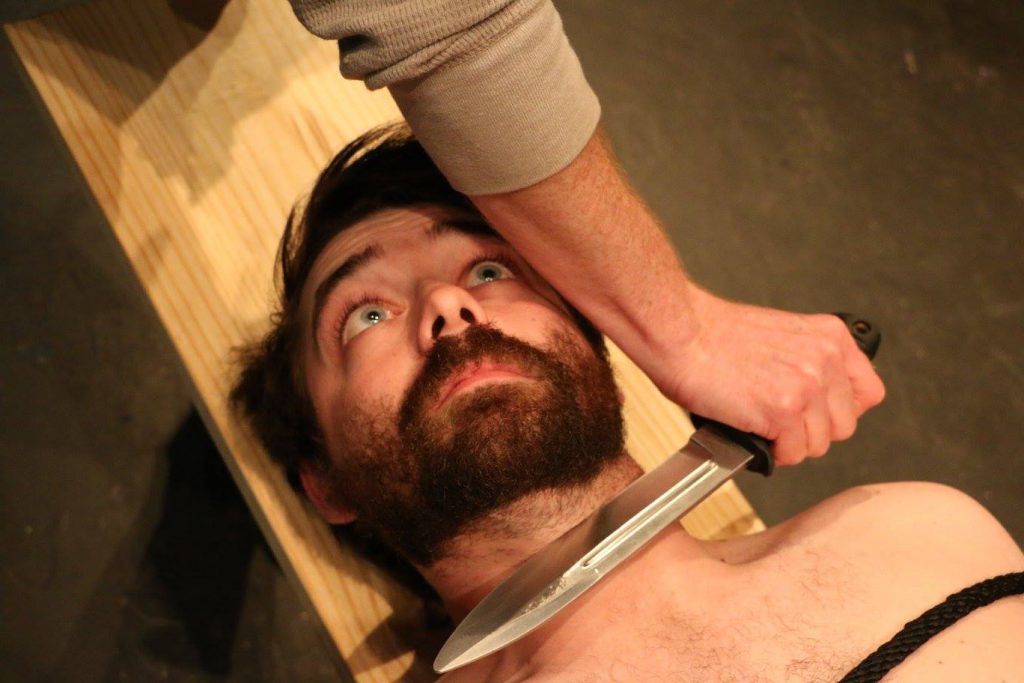 The production doesn't need any elaborate sets or technical wizardry to be effective (although there are some very clever practical effects), because the entertainment is all in the dialogue. Audiences familiar with McDonagh's work already know how great of a writer he is, and this show is nothing short of fantastic. If you happened to catch Theatre Lab's inaugural production of The Pillowman in 2015, you know what kind of show you are in for. While The Lieutenant of Inishmore is more comedic overall, both shows go into some very dark material. And what they certainly have in common is the brilliant writing.
Saunders and Brinkley have great chemistry, as they work together to deal with the absurd hand they've been dealt. Even with the great lines they've been given, if the delivery was off it wouldn't work. Fortunately that isn't the case here, with both actors completely submerged into this twisted tale. I can't remember a time, other than during the more intense scenes, that the audience wasn't laughing out loud at the insanity before their eyes.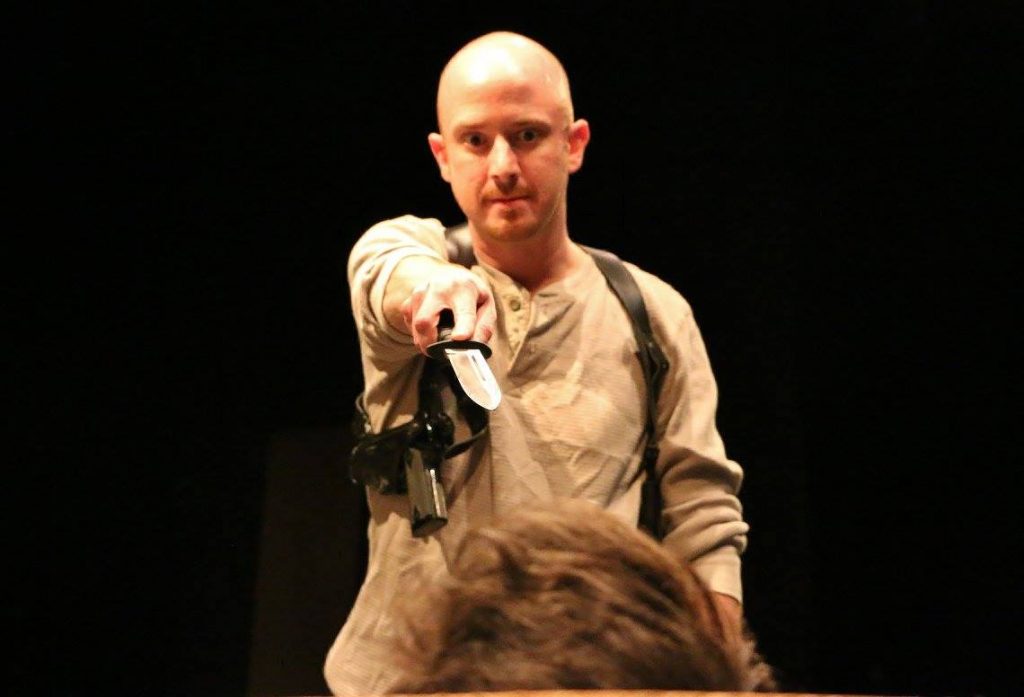 Charlie Barron is fantastic in the role of Mad Padraic. The actor portrays the type of craziness where you don't know whether to laugh, or to fear for the characters on-stage. Barron is the perfect embodiment of the source material, as he keeps the audience constantly guessing as to what his next move is. And that's exactly what you need with a character who makes you laugh while threatening to cut the nipples off of a drug-dealer.
Recently disowning Mad Padriac is the other group from the INLA (the splinter-group that Padriac wants to splinter again from) consisting of One-Eyed Christy (Chuck Winning), Brendan (Brock Russell), and  Joey (Jake Blonstein). These three are fantastic together, and absolutely hilarious to watch banter back-and-forth. It's a lot of fun to see them fight among themselves, before ultimately trying to take care of Padriac for straying from their cause. I recently had the chance to see Russell in Theatre Lab's production of Closer, which was fantastic, and it's once again great to see him in a dark, yet comedic role. Winning really steals the show as the leader of the group, where his size and demeanor lets you know he means business – while finding a perfect balance of comedic timing for the role.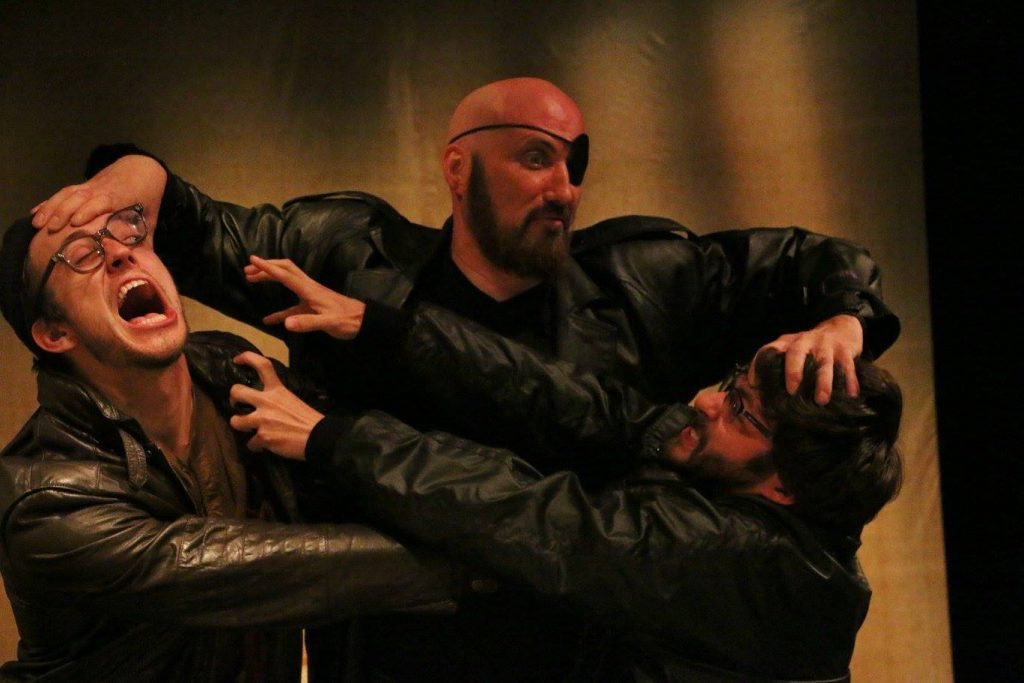 Another welcomed addition to the cast is Larissa White (who also starred in the aforementioned production of Closer), as sixteen-year-old Mairead. No stranger to the St. Louis theatre scene, White commands the stage whenever she is present. The terrific actress plays the sister to Davey, and also plays an important role in the story. It is clear to see that she is having fun with the character, and the casting couldn't be better.
The Lieutenant of Inishmore is an exciting first outing for Theatre Macabre, making their debut with a great story, full of hilarious dialogue and twists and turns at every corner. Hats off to Nick Kelly (who many locals may know from his work with New Line Theatre) who you can truly tells is in love with the source material. It is obvious that he understands exactly what McDonagh was trying to do with the story, and excels in delivering a thrilling, and highly entertaining, piece of theatre.
See The Lieutenant of Inishmore at the Kranzberg Arts Center through June 25. Tickets and more information at MetroTix.com.