Theatre Lab's Production of 'Closer' Is Intense in All the Right Ways

Opening for two weekends in January, the first in 2017 and only the second production at the beautiful new .ZACK theater in St. Louis (right down the street from The Fabulous Fox), Closer runs audiences through a gamut of emotions. There is humor, sadness, anxiety, and most importantly truth – and the consequences that arise from embracing it.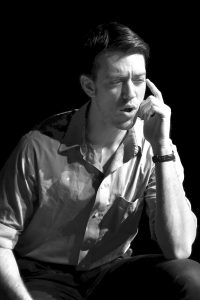 The show stars four actors, each playing a character in two very confused relationships. Dan (BROCK RUSSELL) is a writer, who meets Alice (LARISSA WHITE) after watching her walk in front of a moving vehicle. While accompanying her in the hospital, they cross paths with Larry (ANDREW MICHAEL NEIMAN) – a dermatologist who stops to check on Alice's leg injury. Fast forward to months later, we're taken to a photography studio where Dan has hired Anna (GABRIELLE GREER) to capture his head-shot for his new novel – based on himself and Alice. It doesn't take long to learn that Dan has become instantly smitten with the recently divorced Anna, and isn't serious about his relationship with the younger Alice. With some deception from Dan, and the twists and turns of fate, Larry and Anna meet and enter into a relationship of their own. What follows is a mezmorizing series of events that unfold over the next several years, as the two couples intermingle and dance a beautiful dance of self destruction.
First things first, this play is not for everyone. If you are easily offended by harsh language and very descriptive sexual content, this isn't for you. Written by Patrick Marber, Closer debuted in 1997 in London, hitting Broadway in 1999. It was adapted into a 2004 film starring Jude Law, Natalie Portman, Julia Roberts and Clive Owen. If you have seen the film, you have a good idea of what you are getting into. The film is rated a hard R, and the show is even more intense. I stress this simply because some of the patrons of the show I saw were unaware of the source material and content, and were quite taken aback. Just make sure you know what you are getting into.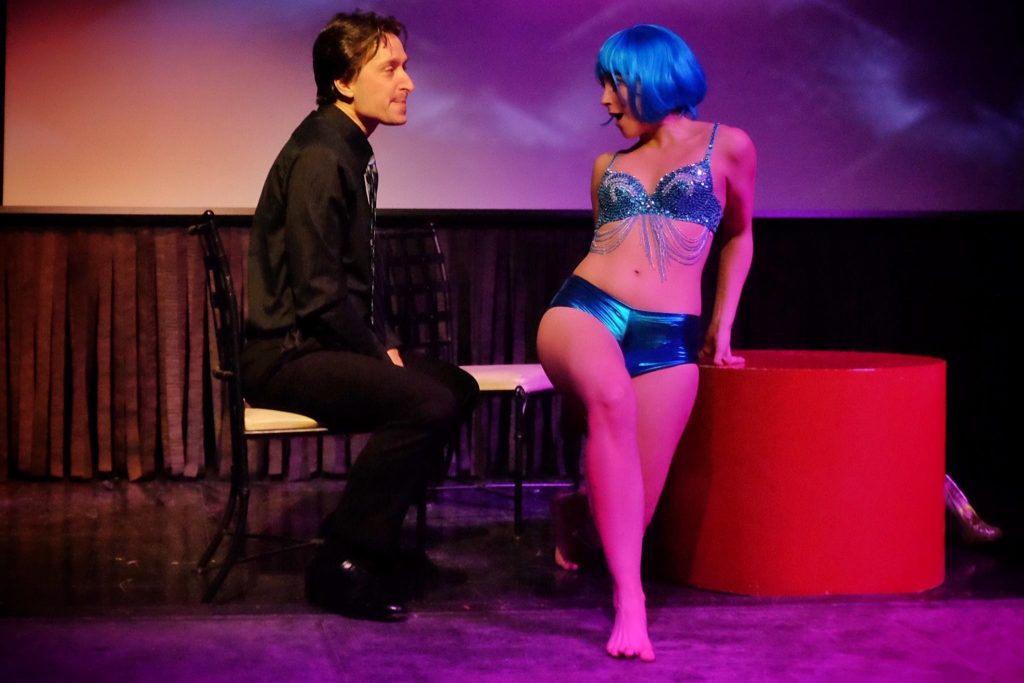 The stage is fairly contained, and the theatre is quite intimate. So watching the show you really feel like you are part of the story, eyes glued on them like passerby to a car accident. The audience is a collective fly on the wall, intently observing the raw and visceral emotions exploding inside – and between – these two couples. The characters intermingle and weave an intricate web as their relationships collide, all the while struggling with the flood of feelings that aid in their destructive endeavor. As we stare intently, we know this can't end well; yet we can't help but to keep our gaze fixed upon the beautiful destruction underway.
The acting is top notch from the four leads. Saying that Closer is an intense show almost feels like an understatement. These characters are riding an emotional roller-coaster, one that they so desperately want to be over – but can't stop getting in line for. Their portrayals are so real; the emotions so palpable. You feel bad for not interjecting to help them, before you suddenly realize you are watching a play. The chemistry between them all is a beautiful thing, and so important as the couples mix and match throughout the story. All four of them have to be exceptionally strong at times, yet vulnerable right around the corner. Larissa White's character Alice is especially susceptible to these ups and downs, as her youth and personal issues struggle to keep up with this intricate game the four are playing. The actress is brilliant at changing her emotions at the drop of a hat, always believable and clear with her intentions. Alice often must put on an act, and it's a multi-layered performance with all the character struggles with.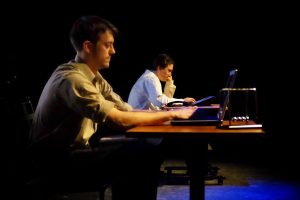 Russell and Neimnan are fantastic as Dan and Larry respectively. The two of them share a hilarious interaction early in the show, not in person but over the internet in a mature chat room. It is this event that sets the entire story into motion, as Dan pretends to be Anna in order to seduce the over-sexed Larry and set up a "chance" meeting between the two. Little does Dan know that his prank would actually work, and much to his dismay he makes Anna even less available for himself. Yet his persistence is never ending, like a dog begging for scraps under the table. Russel gives us a strong and confident character who can't help but to reveal his emptiness, like a puzzle with one last missing piece. Meanwhile Neiman plays the kind and lovable companion, who believes in truth above all else. The actor is especially talented at bouncing between Larry's moods, from pervert to sweetheart, and loving companion to broken-hearted victim. His transition from kind and gentle to a jealous rage is seamless and powerful, and both make it difficult not to feel uneasy as intended.
Gabrielle Greer is Anna, probably the most pure-intentioned character of the bunch. Her portrayal exudes innocence, and a purity makes us believe she doesn't want to do anything wrong. Yet her emotions get the best of her, as they tend to do, and Anna ends up hurting the people she loves. Greer is so real in the role, never making us question her character's motivations. When she says she "isn't a thief," we believe her. When she says that she never intended to hurt anyone, there's nothing but truth. She is kind, and compassionate, and always authentic. Like the other actors in the show, Greer is faced with some heartbreaking scenes that force you to feel what the character is experiencing. While I'm sure each character is relatable for some, it seems like Anna is the best example of what can happen to a good person, with good intentions, that lets their emotions get the better of their morality. Greer exhibits these characteristic masterfully.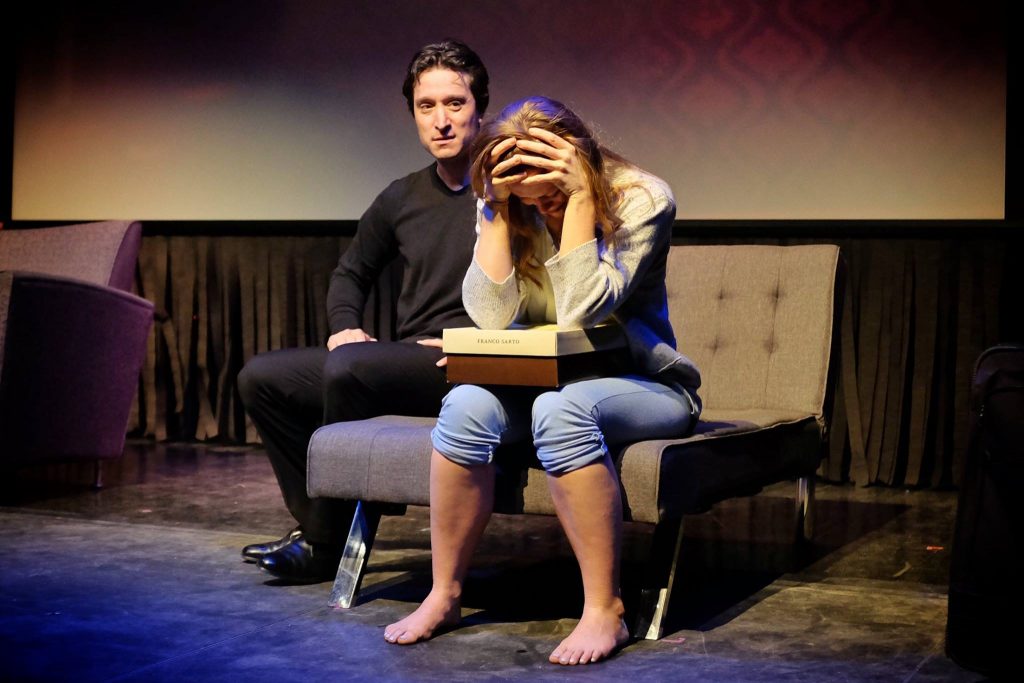 The set design is simple, yet incredibly effective. Much of the story centers around Anna's photography, and wonderfully so does the set. We are seamlessly taken from scene to scene through photographs placed in front of a camera, displaying on a projection behind the actors. With some added lighting, simple effects and prop changes, the transitions work very effectively. The show is full of heavy material, and some very large performances – so the focus is mainly on the acting. Yet the sets do a fantastic job placing the characters.
Closer is a beautiful play, full of the ugliness of reality. The show feels real, because in a sense it is. The characters are real people, somewhere, struggling with very difficult issues that exist more often than we sometimes realize – or care to admit. When it comes to the subject of love, and lust, there isn't any one perfect reference manual. And this show is the result of four people trying to figure that out as they do the only thing they can – live their lives.
Closer has two remaining shows, Sat. Jan. 21 at 8PM and Sun. Jan. 22 at 2:30PM. For tickets or more information, visit Metrotix or Theatre Lab on Facebook.