Review: The St. Louis Symphony Orchestra Dazzles in Stéphane Denève's Debut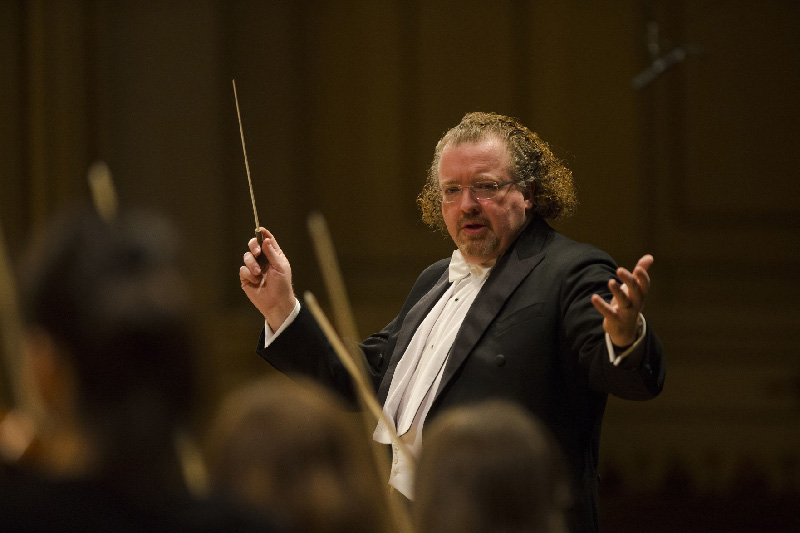 It is an exciting time of new beginnings for the St. Louis Symphony Orchestra. Like all new starts there is energy and anxiety, both of which signify that magic is in the air. In addition to unveiling a new logo and special pricing the orchestra enthusiastically began its 140th season with the debut of their 13th conductor, Stéphane Denève.
Serving as a guest conductor eight times from 2003-2018 and as Music Director Designate for the 2018/2019 season, the animated Denève is no longer a stranger. Now serving as conductor and Music Director he has set his sights on continuing the great orchestra's legacy while also bringing its vibrant sounds to new audiences.
On September 21-22, Denève conducted his debut concert with the orchestra for a program featuring a robust six pieces of French flavored music. There were no snails, but he did bring some of his friends along for the ride.
Comparing his inaugural concerts to a wedding, Denève hit on the themes of offering his audiences something old, something new, something borrowed and something blue. By all accounts, the 'marriage between the St. Louis Symphony and its new conductor is off to a passionate start.
Within this context of a wedding, Denève, who considers the symphony an American family, and himself a member of a French family who is marrying the orchestra and the community. Addressing the audience from the stage he emphasized his desire to build a 'Franco-American Arch' between his native France and Powell Hall.
Under the umbrella of using music to bring people together, Denève and the St. Louis Symphony Orchestra unveiled Virelai (after Guillaume de Machaut), a world premiere piece from native St. Louisan Kevin Puts. Returning to the theme of connecting American and French cultures Puts, a 2012 Pulitzer Prize winner for music, based his composition on a 14th-century love song by the composer Guillaume de Machaut. Despite being rooted in the past, Virelai is also firmly planted in the present thanks to Puts' inclusion of lavish flourishes in the style of John Williams in this work. Starting slowly the tempo builds to a fanfare that repeats and then holds the melody before deconstructing it and then putting it back together again.
Denève followed Puts stunning debut with another contemporary piece, Jennifer Higdon's Blue Cathedral. One of the most performed contemporary compositions in the world, it has been performed by over 600 times by orchestras across the globe. Using music as a relief from pain, Higdon wrote it as a tribute to her brother who died in 1998. Musically it is highlighted by the subdued sounds of Chinese health bells and a delicate duet between flutes and clarinets.
Finishing off the first half of the program was Debussy's La Mer (The Sea). Inspired by the works of Hokusai and Turner, its orchestration conveys crashing waves and stormy seas. Comprised of three movements (each a symphonic sketch), La Mer finds Denève bringing harps, brass, and percussion to the forefront as the momentum builds to a climax that blends horns and strings together without overwhelming the listener.
Pianist and New Artist-In-Residence Jean-Yves Thibaudet joined the orchestra for performances of Guillaume Connesson's The Shining One (based on Abraham Merritt's sci-fi novel, The Moon Pool), followed by Ravel's Piano Concerto in G Major. Having recorded an album of Connesson's music, Denève's appreciation for his work was evident in the brisk and lively melodies emanating from Thibaudet's piano.
Ravel's seductive Piano Concerto in G minor, a piece tinged with jazz influences and exotic flavors, was the most energetic work of the night, as the maestro carefully brought this complex blend of sounds together to form a gorgeous sounding crescendo.
In a night filled with French music it only made sense to close the proceedings with another jazz-influenced composition, Gershwin's An American In Paris. Working in overdrive, the orchestra playfully used it to collaborate with the preceding concerto, giving an exuberant heft to one of the most recognizable melodies of the 20th century.
Judging by the applause, his first few days on the job went pretty well. Delivering vivacity, variety and a spirit of togetherness that signals that his union with the SLSO promises better things to come.
For tickets, concert information or news of upcoming special events contact the St. Louis Symphony at 314-534-1700 or online at www.slso.org